News
Jeschke Trial Takes Unexpected Turn
Witnesses Shed Light on Recent Activity
A week after it started, a surprising new twist appeared in the trial of Peter Jeschke, the former Santa Barbara High School tennis coach accused of giving drugs and alcohol to several students on his team and having sex with one of them. On Friday afternoon, two teen witnesses took the stand, giving testimony about more recent events. One of Jeschke's former players, who is now a 19-year-old first-year student at UCLA, testified that in the days leading up to the trial, Jeschke contacted her several times asking her to call some of the case's key witnesses and request them to change their story or not testify at all. At first, she said that she refused to do it, but after he continued to ply her, she relented. The day before the trial began, the young woman – who was offered immunity from prosecution by the District Attorney's office – said she created a fake Facebook account, using it to send threatening messages to the teen that Jeschke allegedly had sex with, as well as to two other witnesses.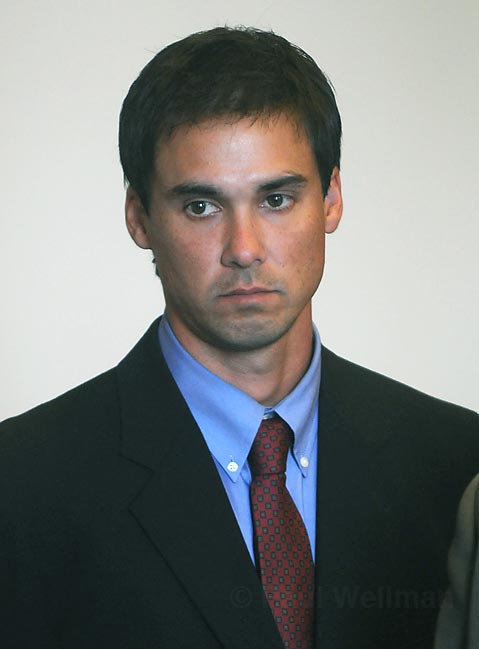 The 19-year-old's brother, an 18-year-old senior at Santa Barbara High School and also one of Jeschke's former students, testified that Jeschke had called him making similar requests. "It wasn't my position to go out and tell my friends to lie, and I didn't want to get involved," he said during his testimony. Although he said that he did not wish to testify and was only doing so because he was subpoenaed, the young man told the court that he had used marijuana and drunk alcohol with Jeschke on several occasions while Jeschke was his tennis coach. Both brother and sister looked extremely uncomfortable as they testified, while Jeschke stared at some distant, fixed point, mouth agape.
While there has been no physical evidence against Jeschke presented in the trial, the testimonies of numerous witnesses as well as taped phone calls and photocopies of text messages between Jeschke and some of the teens have supported allegations that he had sexual relations with one of his players on several different occasions, and may have given drugs and alcohol to minors as well. Over the past two days of the trial, witnesses have included still more teens with knowledge of the case, as well as Santa Barbara Police Department Detective Jaycee Hunter – the case's lead investigator – and Santa Barbara High School Principal Mark Capritto. Hunter testified that based on phone records subpoenaed for the investigation, the number of text messages Jeschke sent to the alleged victim of the sex crimes rose incrementally from May to December of 2007, totaling some 125 messages.
During one particularly emotional moment on Tuesday, while a teen was testifying about calls her friend made to her regarding having sex with Jeschke and her concern about having contracted a sexually transmitted disease, a tour group wandered into the courtroom, apparently to see the day-to-day workings of Santa Barbara County's historic courthouse. A priest in the group who had sat down near the back of the room listened intently as the girl related her friend's description of the red bumps that had appeared on her vagina shortly after her second alleged sexual encounter with Jeschke. Several people looked embarrassed and the tour guide herded the group out of the room.
Jeschke's defense team, which has been relying on a detail-oriented approach to their cross-examination, declined to question several of Thursday's witnesses, including Capritto. At one point, defense attorney Lara Yeretsian was reprimanded by Judge Frank Ochoa after demanding, "I'm just not going to get an answer out of you, am I?" of Cathy Clemens as she testified. A family friend of one of the key teen witnesses, Clemens appeared to have been confused by Yeretsian's line of questioning.
By the time court adjourned on Friday afternoon, Deputy District Attorney Joyce Dudley had rested the prosecution's case, but it is not yet clear whether or not Yeretsian will recall witnesses for further questioning when court resumes on Monday morning.