Arts & Entertainment
Martyrs Unleash Debut Album
S.B. Three-Piece Throw Release Bash at Muddy Waters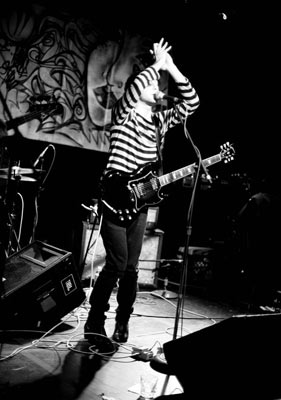 This Friday, anyone and everyone in the know will likely be pouring into Muddy Waters Cafe for one of Santa Barbara's most highly anticipated album release parties of 2009. At 8 p.m., the boys of the Martyrs will be unleashing their self-titled full-length debut to the masses and are promising quite the night of hip-shaking festivities to those who turn up.
For the unacquainted, this baby faced three-piece busted onto the scene none so long ago with crunching guitars and yelping vocals aplenty. The trio, made up of Nic Martyr (vocals, guitar), Avery Wheeeler (bass, vocals), and Nate Carlsen (drums, vocals), is perhaps most notable for their collective youth – not one of the boys is over 20. Quickly after the dissolution of the gents' high school project, The Cosmic Revelators, Marytys was formed. And in less than a year, the guys have managed to develop a sound that pays homage to '70s punk influences like the Sex Pistols, but leans a little more towards the modern rock sounds of The White Stripes, Queens of the Stone Age, and The Strokes. And while the instrumentation is all grainy garage-y roughness, lead singer Nic Martyr tends to sound more like Clap Your Hands Say Yeah's Alec Ounsworth than anything close to Johnny Rotten. The result is a genius hybrid of indie innocence and punk rock bravado, solidly backed by a string of clever hooks and catchy lyrics. We recently caught up with Martyr to discuss the album, the release party, and what it's like to book shows as a member of the under-21 club.
How has the sound you developed in the Cosmic Revelators evolved through the Martyrs project? Id say that Martyrs is a more mature version of Cosmic. The songs hit harder, are better written, and we've really focused in on the genre we've been aiming for, which is a sleazy Rolling Stones/White Stripes sound. Cosmic was a fun high school band: Martyrs is something to be taken seriously, which I think we've accomplish with the album. We want to turn heads and be successful.
Why the decision to call yourself "Martyrs?" It's kind of a weighty name for a young band, no? The name is a bit abrasive to some, and sounds like a heavy metal band name. As for a reason why, I suppose it's catchy?
The album is really impressive and if I'm correct, self-recorded. What kind of equipment/software did you use? What (if any) kind of training have you had in the recording realm? Thanks! I've been recording my own music since I was about 13. For about three years, we tried recording in studios, but have never been very happy with the results. I got a bit fed up and decided to buy the equipment myself and record the album. I bought a Pro Tools setup, with a Joe Meek preamp, a Blue Bluebird mike, and some monitors. I suppose none of us have had formal training in the recording realm. We're all self-taught. We recorded the songs to make them sound how we want them too, not how anyone else wanted them too. It was a learn-as-you-go process, which thankfully worked out to our advantage. I'm very pleased with not only how it turned out, but also that we've got a product to be confident in.
What are you guys currently listening to? What were some of the albums/artists that made you start thinking about playing music? I think for all of us, the two primary groups which got us thinking about playing music were the Beatles and Led Zeppelin. As for current acts, we're listening to Black Rebel Motorcycle Club, Jet, The Vines, The White Stripes, and Louis XIV.
As a band whose members are all under legal drinking age, how has it been trying to book shows around town? Turning 18 has been a big plus for me personally, but in the past it hasn't really been that hard booking shows. We've played all over town, except for some bars. I mean, venues haven't really been limited, thanks to places like Muddy Waters and Jensen Mainstage. We've also learned to be creative with the shows, playing at places that aren't normally considered [show spaces]. We've played places like Urban Outfitters, the Greek House Cafe, and various hair salons like the Underground. So we've been just fine, and it's a direct result of how supportive some people are.
Has there been a show so far that you guys could call your favorite or best performance? When and where was it? We got a chance to open for punk legends the New York Dolls at the Ventura Theater a while back. That was a bit sublime.
What can someone who's never heard of Martyrs expect out of a live show? They can expect a real live rock show. It is raw rock 'n' roll at its finest, which is terribly exciting and a bit sloppy at times. We guarantee you, there will be shaking hips. Also, we promise you that each show we play is different from the rest. We never play a song, or a show for that matter, the same way twice.
What's next for you guys? Any plans to take Martyrs on the road? We're working on promoting the album first of all. As for a tour, I suppose if it's meant to be, we'll pack our bags and leave. I mean, our position right now is we just need more people to hear and discover the music. We're very confident in the product we've got, and we think that it will go over very well:
4•1•1:
Martyrs will play Muddy Waters Cafe this Friday, May 8 at 8 p.m. CDs will be available at the show, and can also be purchased online via iTunes. Call 966-9328 or visit myspace.com/muddycafesb for details.