News
Activist Braves Fires to Push Healthcare Reform
Purple Bus Rolls Through S.B.
Kathie McClure is one fed-up mother. The Atlanta-based lawyer is so concerned about America's failing healthcare system and its impact on her children that she ignored 50- to 90-foot flames visible from the freeway last Thursday to drive her one-woman campaign for reform into Santa Barbara.
McClure-known around the country as "the purple bus lady" because she travels in the converted school bus her husband bought for her on eBay-has toured more than 20 states since July, collecting stories, speaking at rallies, and taking pledges from people to get involved in the issue. "Everybody I see, they all have a [healthcare] story to tell, and that's why I believe something's going to change," McClure said outside her parked bus on Cabrillo Boulevard. "It's affecting the middle class."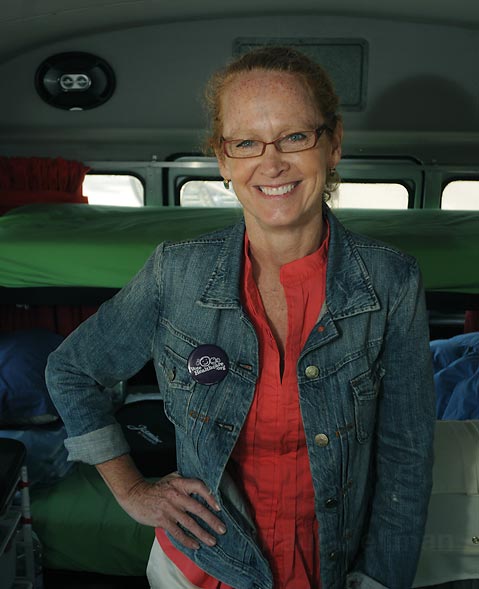 With passing cars intermittently honking their support, McClure explained that her kids Chris and Kaitlin-27 and 25 years old-have serious pre-existing conditions that make them all but uninsurable in the individual policy market. Chris was diagnosed with Type I diabetes when he was 14, and Kaitlin contracted epilepsy after hitting her head on a soccer goal at 15. McClure knew they were going to have problems as adults that they couldn't solve on their own. One morning in 2007, she woke up and realized she had to get active. "I said to my husband, 'Honey, I need a bus.'"
With President Barack Obama's pledge to reform the system and unemployment rates of 11.5 percent in California and 8.9 percent nationally, McClure's timing couldn't be better. A January Kaiser Family Foundation (KFF) report found that for every 1 percent increase in the unemployment rate, 1.1 million people lose health benefits. On Monday, Obama elicited a public promise from health insurers, providers, drug makers, and device manufacturers to voluntarily cut $2 trillion in healthcare costs over 10 years. (Industry observers, however, speculate the executives are securing a seat at the table, where they will try to block Obama's agenda for a public health plan to compete with private plans.) And in two weeks, congressional lawmakers are expected to unveil several major healthcare reform proposals.
"Only in America are private companies profiting from healthcare, and it's just not sustainable," he told McClure.
McClure believes that if everyone who has a problem affording or accessing care would get involved in the debate, the problem would be solved. But so many of them feel a sense of personal failure and keep quiet. "So I tell them, 'You're not alone. Unfortunately you have a lot of company.'" Then she gets them to sign a pledge. Her organization doesn't support one plan over another, simply the idea that everyone should have access to affordable, quality healthcare from cradle to grave.
Before last year's election, McClure attended Obama and McCain rallies. One McCain supporter parking cars outside a rally said his sister has multiple sclerosis and pays $1,000 a month for a COBRA policy. Further down the road, the president of a large medical device company said he spends between $20 million and $30 million annually to cover his employees. "Only in America are private companies profiting from healthcare, and it's just not sustainable," he told McClure.
A woman traveling across America alone in school bus to secure grassroots change is nothing if not brave. McClure sleeps in campgrounds and never stays anywhere she doesn't feel comfortable. Her van has wireless broadband, a microwave, a refrigerator, a DVD player, satellite radio, and bunk beds. From Santa Barbara, McClure was headed to L.A., then north to Redwood City and the Central Valley, ending up in Sacramento for an event with the statewide advocacy group Health Access California. She won't stop until she gets to Washington state.
"The best part of what I'm doing [is] the people I meet," she said, as a passing motorist noticed the bus and the words votehealthcare.org plastered across the side and honked. McClure chuckled. "I'm glad you got a flavor of my life."