News
Garbage Truck Catches Fire in Goleta
Driver Notices Smoke, Dumps Load To Prevent Additional Flames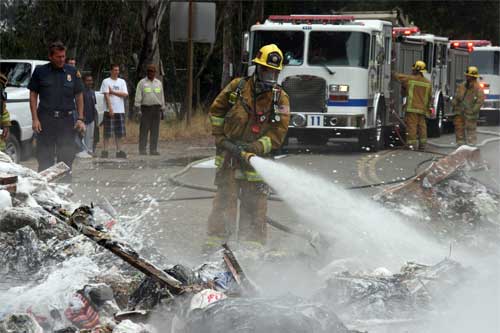 A MarBorg garbage truck caught on fire in Goleta near the Dos Pueblos Canyon off-ramp on the southbound 101 at around 10:45 a.m. this morning.
According to public information officer David Sedecki, the driver of the truck noticed smoke coming from the back of his vehicle and pulled over to further investigate the situation. The driver saw that the box of the garbage truck was hot and immediately phoned his dispatcher for instruction.
The dispatcher advised the truck driver to dump the load, which Sadecki noted was "the smart thing to do." Three engines responded to the incident, as well as a tractor that spread out the load of garbage.
The fire battalion used water with foam to knock down the flames and put out the fire.