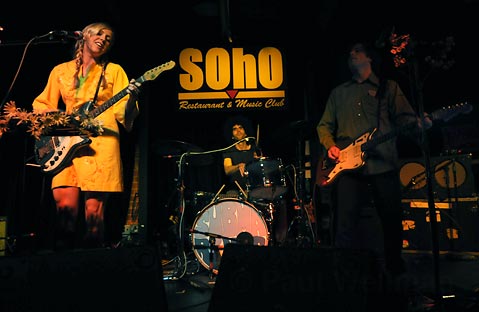 In this age of affected synth rock, computerized backing bands, and inaccessibly pretentious scenes, it's always nice to find a group that likes to smile. On Thursday night, that discovery came in the form of husband-and-wife duo The Submarines. Made up of frontwoman/guitarist Blake Hazard and guitarist/effects whiz John Dragonetti, the pair might best be known for their recent contribution to the commercial world: their single "You, Me, and the Bourgeoisie" has been used in not one, but two spots for Apple's iPhone. But don't call The Submarines a one-hit wonder, because as they proved at SOhO, these lovebirds know how to pen a tune-and delight a crowd.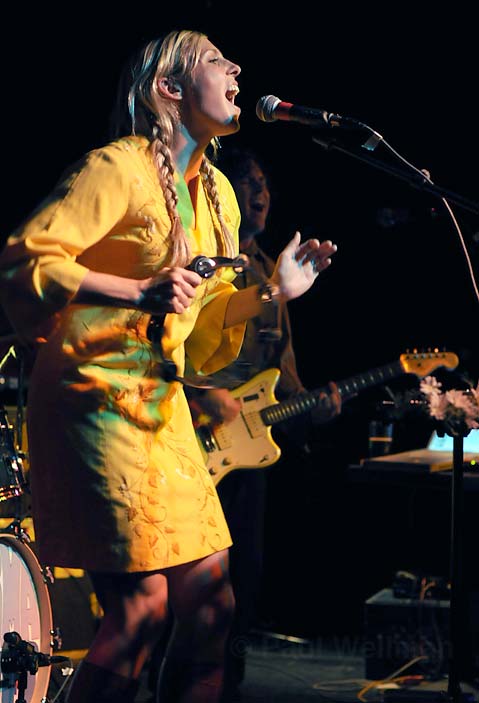 Dressed like a hipster's version of Cindy Brady, a pigtailed Hazard was the undeniable focal point for those in attendance. From behind her flower-swathed mike stand (think Gwen Stefani's setup circa No Doubt's "Don't Speak" era), Hazard grinned, bopped, and coyly belted through a series of tunes off the band's two albums, Declare a New State! and Honeysuckle Weeks. For the upbeat "Swimming Pool," Hazard exuded cheeky flirtatiousness, nearly bursting into giggles as she opened each chorus with a powerful "when you kiss me :" For "1940," the duo channeled something decidedly more sinister, employing minimal guitar and xylophone hooks to create an eerie, almost neo-noir feel to the whole thing.
On numbers like "The Thorny Thicket," the pair again showed off their ability to paint a picture through music, combining jangly tambourine with driving guitar parts, crunching drum loops, and recorded shakers, violins, and bass to make for something that felt like a spastic instrumental circus. Dragonetti took a step away from the computer (and picked up the melodica) for the delightfully stripped-down "Brighter Discontent," which, like much of The Submarines' first record, features Hazard singing lyrics from Dragonetti's point of view.
Still, what stood out more than their ability to fashion an entire band out of two members, or their penchant for clever pop-minded songwriting, was the duo's truly genuine love for performing. By set's end, surrounded by a surprisingly sparse crowd, the pair seemed as happy as ever to be onstage. And that, especially nowadays, is simply hard to come by.