Arts & Entertainment
Jesusita Fire Benefit at the Granada Theatre
Friday Night Reggae Fest Packs House for a Good Cause
It was delightful to see Santa Barbara's youngsters get together to honor the firefighters who saved our city last Friday night. Twiin Productions welcomed three reggae bands-Through the Roots, Iration, and Rebelution-to the Granada for the benefit, and though the move seemed a little risky for the newly remodeled venue, the end result was one of the theater's first sold-out nights in its history. Thanks to top-notch acoustics, the venue also made a perfect home for the stellar sounds of reggae.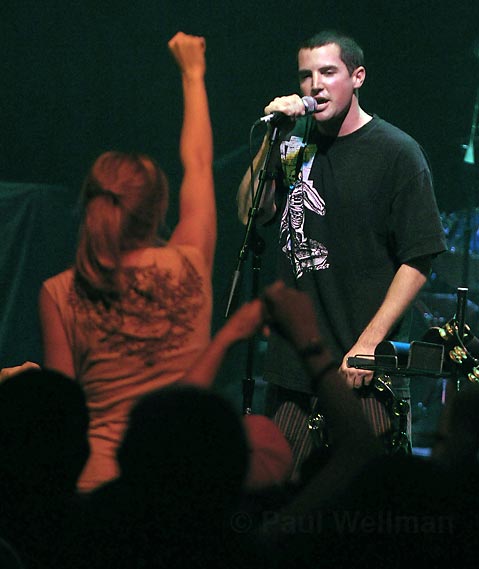 First up was San Diego-based band Through the Roots. These six guys are still new to the scene, having made their debut only last spring. Nonetheless, they shook our roots and got us pumped for the night's second act, Iration. Between Kai Rediske's reggae vocals and Micah Pueschel's melodious voice, the Hawai'i-born band seemed to satisfy everyone; so much, in fact, that security had to police the many girls standing on the Granada's precious chairs during the set. "Falling" and "Cookie Jar" were definite hits of the night, and the Granada's acoustics proved perfect for Iration's reggae rhythm and rock backbeat.
Isla Vista's Rebelution definitely earned the title of headliner on Friday. Not only had the guys just played UCSB's Extravaganza, but during the fire, they helped an evacuated Iration by sheltering the band in their home. While Iration's duo kept the vocals clear, Rebelution preferred softer, muffled lyrics to keep their heavy bass line and general "feeling good, feeling all right" aura at a constant peak. And that's just what the audience got with popular songs like "Safe and Sound" and "Attention Span." You're not a true Santa Barbarian if you haven't seen these guys perform yet, so get on it, and make sure to pick up their new album, Bright Side of Life, available Tuesday, August 4.
So, despite a minor security scuffle and a couple reminders to "respect your history," courtesy of KJEE's Fat J, the Jesusita Fire Benefit Concert was a huge hit and a successful way of showing the community's support for its heroic firefighters and compassion for its burn survivors.