Outdoors
Fire Victim Family Tries to Forge Ahead
Insurance Providers, News Crews Leave a Bitter Taste for the Keltners
It's been almost a month since their home was incinerated in the Jesusita Fire and the Keltners are still just beginning to piece their lives back together. While the family realizes that their situation is not unique – they have been in contact with others who similarly lost their homes in Santa Barbara's recent blazes – they cannot help but express their frustration with the biggest roadblocks they've experience thus far in their own reconstruction efforts.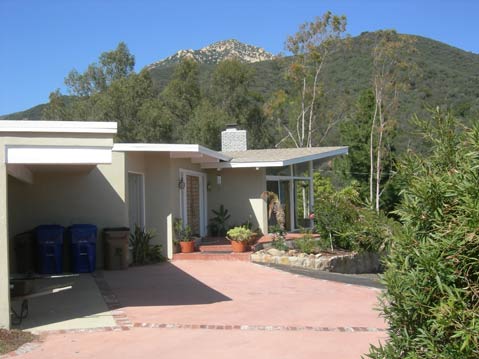 A little background on the Keltners: Two years ago, mother Nancy, son Mike, and daughter Karen Keltner moved from Brooklyn, New York, to a spot on Tunnel Road that overlooks Spyglass Ridge, Laurel Reservoir, and the city below; the property is only a stone's throw away from the Jesusita Fire's origin. Nancy had been in publishing for 30 years before working at Jean-Michel Cousteau's Ocean Futures Society. She was let go 12 hours before the fire started. Her son Mike is currently on disability as he recovers from a motorcycle injury that severely injured his leg. Needless to say, they're in a tough spot. "It's hard to become a charity case overnight," said Nancy.
But, with all the daunting challenges ahead of them – finding employment, collecting insurance, starting to plan and build a new house, and so on – the Keltners are resolute, refusing to let the firestorm and the following tempest of hassle and anxiety get the best of them. Speaking with Nancy and Karen at the now-scorched property, however, it became clear that certain details of their recovery efforts have proven more difficult than others.
Insurance, for instance, has been "the headache," sighed Nancy. The Keltners met with insurance adjusters three weeks ago and, after a brief meeting, were told that they would hear back from the agency within a few days. Weeks later, and there is still no final word from their Ventura-based homeowner's insurance providers. Their personal agent has not come by to see the property for herself or, according to Nancy, been easily reachable. "This is become quite the journey of discovery," said Nancy in reference to her dealings with their provider and the family's efforts to acquire fair and adequate compensation.
It is important to note that the Keltners are realistic about the amount of time it takes to recover, personally and financially, from such a dramatic episode as the Jesusita Fire – they understand and appreciate the 18- to 24-month timetable offered by past fire victims that takes into account the overwhelming amount of red tape the suddenly homeless are forced to cut through.
The Keltners' frustration stems from a lack of clear communication and quick response from their insurance provider, and an inability to do anything about it. For example, in an effort to look ahead, the Keltner family wants to demolish what is left of their house and clear the property so that they can contemplate the construction of their new home. Right after our interview, in fact, they met with a representative from Michelle Kaufmann Designs, an area architectural design firm that specializes in sustainable, green home construction. The Keltners plan to utilize the same general layout of their pre-fire property that included a main house and a guest house, which, when rented, had generated a signifiant portion of the family's income.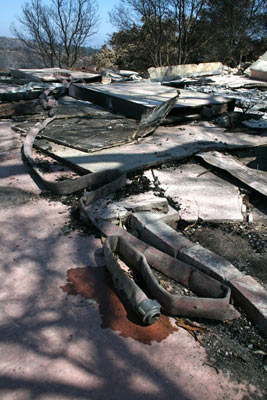 But before the Keltners can clear away burned structure and debris, insurance appraisers need to come by the property and officially log evidence of claims. With that crucial step yet to take place, they are unable to proceed with their plans. "We simply can't move forward until the insurance check comes," said Nancy. The especially exasperating part for her family, she said, is that they are prevented from generating productive, forward-moving momentum due to the lack of performance from their providers. As of now, they are stuck, simply trying not to dwell on the ashy moonscape that was once their verdant, comfortable home.
Ahead of the Keltner clan's insurance debacle, they suffered a different, unexpected disappointment: As evidenced by the carefully arranged objects in select locations throughout the three-acre property, KEYT Channel 3 News crews had apparently entered the Keltner estate and, after what looks like a hunt through the family's personal belongings without permission, artificially created what they thought would make dramatic, newsworthy footage.
During our interview, Nancy and Karen expressed disappointment over their discovery. However, family friend Rich Robar was wholly outraged by the lack of decorum. "Who are these people?" asked Robar. "Who would think that it was okay to enter someone's property and exploit their loss?" Robar added that he is considering taking legal action against KEYT and is currently speaking to lawyers about the legalities of what he feels is a breach of personal privacy; he also reported chasing away two looters from the estate, one of whom was eventually arrested. KEYT did not return any of the calls made by The Independent.
[UPDATE, JUNE 5: After seeing this report, KEYT searched their news footage from the Jesusita Fire to determine the roots of the allegations from Robar and the Keltners. According to news director Jim Bunner, they found no evidence of such a "staging" and are curious whether there was confusion over which was the offending news crew. "We're saddened by somebody making some type of allegation that is false," said Bunner, who was very disappointed by the charges. "We would never, never dramatically stage some event. It's just not true."]
[EDITOR'S NOTE, JUNE 9: Upon further investigation, neither the Keltners nor Robar have been able to produce any evidence to support their claims of "staging." Robar also admits that the re-arranged items he witnessed could have been set up by a separate news crew, or perhaps even by firefighters, who used the property extensively. KEYT, meanwhile, has scoured their video footage from the Jesusita Fire and led their own investigation into the actions of their news crews. They are confident – and have assured The Independent in multiple conversations – that there are no instances of "staging" nor any evidence that they acted inappropriately or illegally during their extensive coverage of Jesusita Fire.]
Sadly and ironically, the Keltners' house, before it burned, was used by firefighting crews as a base of operations; its location provided engine companies with clear access and visibility of the fire's early movement. Soon after establishing the command post, however, the firefighters became quickly overwhelmed at the location and had to literally cut their hoses and run for their lives. The Keltners first learned of this chain of events through the L.A. Times Web site.
As the Keltners continue to restore their life at their home – before evacuating they only had time to grab their "wallets, laptops, and one another" and have been able to salvage merely shards of sentimentally significant antiques – they remain in contact with supportive area organizations including the Mission Canyon Association, CARe, and various county agencies. The family also hopes to eventually create a Web site themselves that allows Santa Barbara fire victims to exchange information and tips. "We'd like to do something to help the next guy this happens to," said Nancy.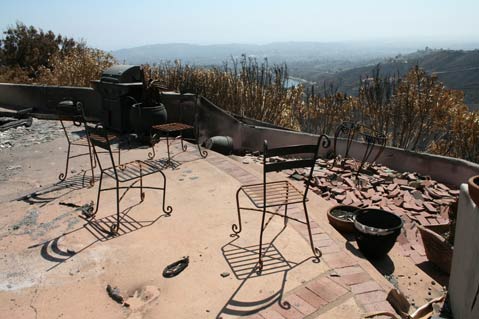 Most recently, the family invested in a used mobile home – it's now parked on their land and is, for the meantime, serving as a temporary solution to their immediate housing needs. Nancy also hopes to install a electrical line on the property to power their new motor home. Moving forward, even with this seemingly straightforward plan, is proving difficult. Nancy has had to negotiate with a number of agencies just to obtain the appropriate permits and permissions, and to pay the necessary fees. And, in her attempts to hook up the mobile home to her property's intact septic tank, the Keltner matriarch has has been forced to deal with more convoluted bureaucratic processes. "I've had to be quite, quite patient," she said.
When asked how they were able to stay so energetically positive in light of the constant frustrations and daunting months ahead, Nancy responded candidly, "Right now we're still running on adrenaline. At some point we'll decompress, and things will probably hit harder."