Film & TV
Anvil! The Story of Anvil
Steve "Lips" Kudlow, Robb Reiner, and Tiziana Arrigoni Star in a Film Directed by Sacha Gervasi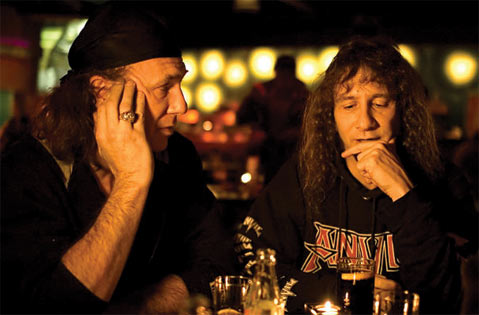 In the age of the mockumentary, especially as defined by classics such as This Is Spinal Tap and Borat, our satire sensors can be overly attuned, even when we know the truth is before us. There are countless moments in Sacha Gervasi's fascinating documentary, Anvil! The Story of Anvil, when we forget that it's all about the "doc," not the mock.
For those unhip to the backstory, Anvil are an influential Canadian heavy metal band that knew a fleeting 15 minutes of fame in the mid '80s before drifting off into obscurity, but never oblivion, thanks to the fierce dream and long-standing friendship of lead singer "Lips" and drummer Robb Reiner (no relation to the Spinal Tap director).
We first meet the band in archival glory, playing before thousands of head-banging fans at the Super Rock Festival in Japan. In one of the many rock-star testimonials lining the film, guitarist Slash sings the band's praises and, on the subject of why they never got the glory due, he figures, "Everyone ripped 'em off and then sort of left them for dead."
But no-unless you consider a quiet life in suburban Toronto some kind of death sentence. This surprisingly strong and artful documentary, a testament to resiliency, is disguised as a VH1-style Where Are They Now? episode, with an ongoing storyline extending from teenaged fantasies to deal-chasing in their fifties. Despite grubby day jobs, gigs for tens in bowling alleys, and a general malaise of midlife crisis, our heroes soldier forth and riff on, working toward a new album and a hoped-for new era.
Their story is an emotional rollercoaster ride. A European tour has some highs, but more dispiriting lows. And perhaps inevitably, there are Spinal Tap-esque moments, intentional and otherwise, along the way. In the studio in England, Anvil's producer twists to a knob that "goes to 11" and their visit to Stonehenge can't help but remind us of the hilarious "size matters" scene in Tap.
Ultimately, Anvil! is neither comedy nor tragedy, though it's flecked with both. Heavy metal music isn't the real subject here at all: It's about the strange and steady flow of life, time, and dreams, set to pounding beats and growling guitar licks.