Dance
Ex-State Street Ballet Dancer Spencer Gavin Forms New Company
Infinite Movement Ever Evolving Debuts at the Lobero June 12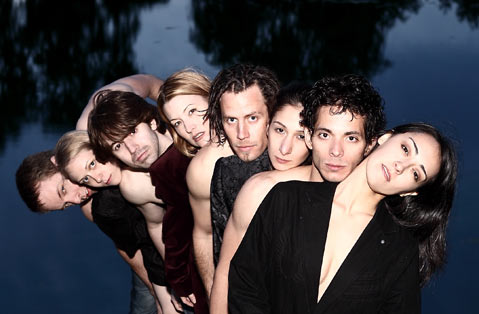 In February 2008, State Street Ballet (SSB) brought to the Lobero Theatre a showcase of dances inspired by the golden era of swing. Ballroom marked the Santa Barbara debut of a new principal dancer whose tremendous energy, stage presence, and stellar technique stood out from an unquestionably talented cast. That dancer was Spencer Gavin.
Just over a year later, Gavin, along with his girlfriend Andrea Dawn Shelley, have left SSB to do what many might not dare in a failing economy: start their own dance company.
"As dancers, we are always looking for work," Gavin explained in a phone conversation last week. "It is a really hard time, but we can't roll over and wait until the economy gets better."
Never one to give up in challenging times, 32-year-old Gavin has for 12 years remained committed to making a living in the world of dance. That commitment has taken him from California-where he started out in his mother's company, Redlands Festival Ballet-to Florida to Texas and back again. In the process, Gavin has danced with numerous ballet companies and supplemented his income by building dance floors. Now, he feels, it's time to strike out on his own.
"The more I dance and the older I get, I have found it's harder to do the stuff I really love," Gavin explained. "I really want to choreograph." Gavin said he chose the company's mouthful of a name-Infinite Movement Ever Evolving (IMEE)-to reflect his aims. "We're infinitely striving to evolve as dancers and artists," he explained. "Instead of calling it 'dance,' we chose 'movement,' because we don't want to be limited to classical, modern, or hip-hop; we want to do it all."
In order to prepare for IMEE's debut show, six professional dancers flew to Santa Barbara in late May for nine days of rehearsal. They are artists Gavin and Shelley know from their work with a variety of companies, and they have been working eight hours a day learning dances most of them have never done before.
The program consists primarily of works by Gavin and Shelley, including Gavin's hip-hop inspired "Doctor Developmental" about a mad scientist who tries to program dancers, and Shelley's theatrical "Son of Dust," based on the concept of the fallen angel. In the future, Gavin hopes, IMEE will also serve as a platform for other emerging choreographers. "There are a lot of amazing dancers out there who never get a chance to choreograph," he explained.
"Spencer and I are ecstatic that we are able to bring together this group of amazing artists from all around the nation to share their high-caliber dancing with Santa Barbara audiences," Shelley added.
In addition to showcasing accomplished dancers and new choreography, IMEE is collaborating with Oakland-based instrumental rock band Judgment Day, who will perform live on the Lobero stage.
Many startup companies choose smaller theaters for their premieres, but for Gavin, there was only one choice. "The Lobero is such a beautiful venue," he said. "It's intimate-not too big, not too small." He said he hoped to sell out at least one night, but added, "If we only have 10 people there, so be it."
One thing is for sure: The future of IMEE in Santa Barbara will be determined in large part by how well the community supports the fledgling company's efforts. Gavin hopes to secure funding to present the same show in Orange County at the end of summer, and again in Miami before the New Year. "We're looking at different areas for our home base," he explained. "It's about finding the right audience, the right support. We can all go to New York, but there are a million companies there trying to start up. We're trying to take our work somewhere where people need it more." It remains to be seen whether Santa Barbara considers itself such a place, and Gavin challenged the public to get involved: "Instead of going to see a movie, come see dance," he suggested. "Don't sit on your couch watching Dancing with the Stars; come out and see real live dance, and fall in love with it."
4•1•1
Infinite Movement Ever Evolving will give its debut performance at the Lobero Theatre on Friday, June 12, at 8 p.m., with a second show on Saturday, June 13, at 8pm. For tickets, call 963-0761 or visit lobero.com. For more information, visit infinitemoves.com.