News
Supervisor's Assistant Faces Perjury Charge
Joe Centeno's Aide Alleges Unfair Targeting By Authorities Because of His Position
It's been a long and interesting road for Gil Armijo – staff assistant to the County of Santa Barbara's 5th District Supervisor Joe Centeno and a potential future candidate for supervisor – since being arrested for driving under the influence in Carpinteria back in December 2007. Though where this road ends is still unclear, Armijo is now facing a more serious felony charge of perjury, and believes he is being targeted by the authorities due to his political position and certain accusations he's made over the years.
Armijo claims he didn't drive his car to the location where he was arrested along Carpinteria Avenue early in the morning of December 22, 2007. But on October 31, 2008, he pleaded no contest anyway, and was sentenced by Judge Brian Hill to three days in jail, a fine, and community service. Thanks to time-served, he didn't have to go to jail, and because he'd worked 180 hours of community service, he didn't have to pay the fine. That would normally end a case of this type, but because Armijo allegedly lied under oath during a Department of Motor Vehicles hearing, his troubles have only mounted.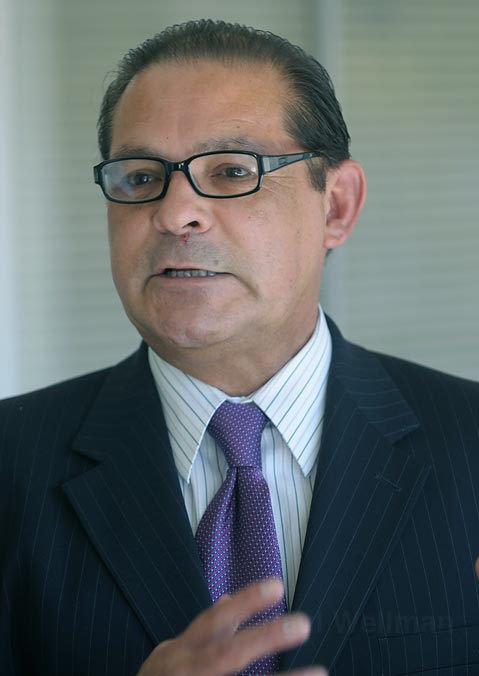 Armijo, who's been representing himself in court all along, says his mistreatment started with the DUI. Armijo told the arresting deputy he had two beers and a glass of champagne several hours earlier, and was on his way from Santa Maria to Pasadena. A female friend drove him to that point, and left to stay at a friend's house. Armijo said he decided to sleep in the car for a few hours, and was behind his vehicle preparing a sleeping bag when the deputy arrived. "I wasn't driving and I wasn't drunk," Armijo said in a recent interview.
But according to prosecutor Ali Neufer, Armijo had a blood-alcohol level of 0.1614 percent when he did a breathalyzer test, an amount more than twice the legal limit of 0.08. In his many court filings, Armijo has claimed that those results were incorrect due to the presence of nearby vehicles and their radio waves. He said that deputies "gave me breath tests fully knowing that the exponentially intensified, powerful radio waves of four vehicles would yield a falsely high BAC."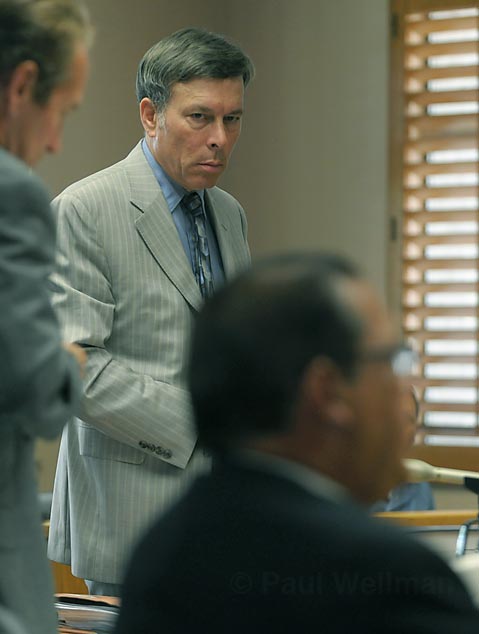 Such theories aside, his current troubles didn't start until later. Authorities allege that – in an effort to avoid getting his license suspended for four months, which is standard procedure for anyone arrested for a DUI – Armijo lied under oath. The alleged offense occurred in a DMV hearing, according to senior deputy District Attorney Darryl Perlin, when Armijo testified he was not the driver of the vehicle and that the driver had left before authorities arrived at the scene. "At a minimum," Perlin said, the fact that Armijo pleaded no contest to the DUI is proof he falsified his account. "When you testify you're not the driver and you are, in fact, the driver, then my view is that you've committed perjury," said Perlin, who is prosecuting the charge.
Armijo claims he didn't lie on the stand, but that the arresting officer, Deputy Brad Bordon, did. He points to a report where Bordon says he observed Armijo driving his vehicle, but later says he came across the vehicle parked on the side of the road with Armijo standing in back of it. He reports Armijo's vehicle was blocking the road, which Armijo says it was not.
At the DMV hearing, Bordon said that he came to the conclusion Armijo was driving his vehicle for three reasons: one, Armijo admitted as much; two, no one else was around; and three, the keys were in the ignition. While Armijo counters that there is a videotape from a police cruiser that shows him pulling the keys out of his pocket, he has never revealed the name of the friend who drove him down to Carpinteria. Avoiding the question in a recent interview, Armijo said he wouldn't name her because he doesn't have the burden of proof in the case. The prosecution, meanwhile, doesn't believe this person exists. "If it were true, we'd have heard nothing else but that from the defendant and his friend," the prosecution wrote in court filings.
At Armijo's most recent court appearance on Friday, June 19, Judge Clifford Anderson denied a motion from Armijo to dismiss the perjury charge because of a conflict of interest, lack of probable cause, and other reasons. Anderson already found there was enough evidence against Armijo to proceed to trial, but he is yet to be arraigned on the charge, despite the preliminary hearing concluding roughly four months ago.
"I told the court we'd end this merry-go-round," Perlin told Anderson Friday. "This defendant is never going to plead guilty so we should go ahead and set a date for trial." Indeed, there has been quite the paper load in the perjury case and DUI case, something Anderson noted in court on Friday, explaining that he came close to not allowing anymore filings unless there was an order from the court.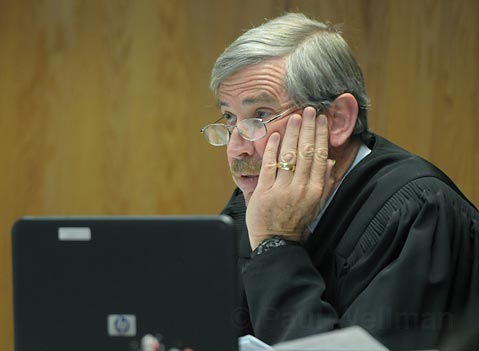 The two sides have been less than genial in court documents, with both sides throwing out accusations. The prosecution wrote in one document that Armijo "has undertaken to make rather too much of what would otherwise be a routine first-offense DUI prosecution." Later, they wrote that, for "want of anything better or more constructive to do with his time," Armijo was filing more paperwork. "One might have hoped that the defendant would have reflected on his manifestly bad judgment in the circumstances," they wrote.
Armijo says he was led to believe that a no contest plea on the DUI would stop any additional prosecution. But not long after he entered the plea, he was hit with the perjury charge. If he had known that, Armijo said he wouldn't have entered the plea, but continued to fight the charge.
Pointing out the rarity of filing a perjury charge stemming from a DMV hearing, Armijo believes he is being singled out by the District Attorney's office, alleging the department has spent in excess of $400,000 prosecuting him. In an email sent to The Independent back in March 2009 from his personal account, Armijo wrote, "I wish I could be impressed by the adulation and obsession the D.A. has for me, but actually I am not since this is all entirely based on malicious legal harassment done with an abuse of public legal resources and all because I refuse to acknowledge their egomaniac vanity that they are powerful, which I will never do because my philosophy of government is more aligned with a libertarian view which rests power with the citizens not with those in government and especially not with those in government who abuse their authority which is exactly what is happening."
So why would he be targeted? Armijo points to his 2008 accusation that Sheriff Bill Brown offered his deputies overtime pay incentives for cracking down on drunk drivers; at the time, Brown dismissed the charge as "ludicrous." (Around that same time, a former administrative assistant of 2nd District Supervisor Janet Wolf announced his resignation after two prior DUI arrests came to light in the Santa Barbara News-Press editorial section.) In court documents, Armijo says he was "targeted unfairly" because he was outspoken about the overtime pay, and that Brown was "going after a citizen he doesn't like." At one point he made a Public Records Act request for all information and exchanges between the sheriff and individuals seeking to run for the 5th District seat in 2010. In another document he said the D.A.'s office had a selective prosecution policy based on race.
Armijo, who makes $77,012 as an assistant to Centeno, could face a maximum of four years in state prison if convicted. He is a longtime community activist who's indicated at times that he will run for supervisor after his boss retires at the end of 2010. More recently, however, he said that his work in defending himself has piqued his interest in going to law school, which he now is also considering.
His next hearing comes in front of Anderson at 9:30 a.m. on July 10.