Arts & Entertainment
Music Academy of the West Concerts, June 30 and July 5
Tuesdays @ 8 Begins, Christopher Taylor Visits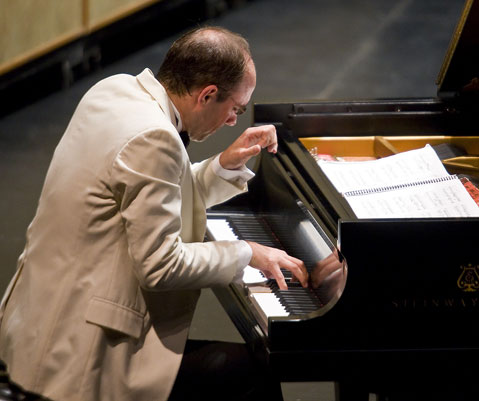 For this holiday week, the Music Academy schedule let some of the Tuesdays @ 8 spirit of challenge linger until Sunday, when special guest pianist Christopher Taylor joined the Academy Chamber Orchestra for an unusual program featuring raucous 20th-century works by Edgar Varse and Olivier Messiaen. Capped by a glorious account of Mozart's Piano Concerto No. 21 in C Major, K. 467 featuring Taylor, and despite the quantity of formidable sounds involved, the whole week went down as easily as an elegant holiday dinner party-something suited to the sophisticated palates of an internationally minded set of lucky Americans.
It is only through the depth of talent available among the Academy's faculty that dreamlike pieces such as Tuesday's opener, Jean Fran§aix's Wind Quintet No. 1, become possible. This fiendishly difficult work required the services of virtuosos on flute (Timothy Day), clarinet (Richie Hawley), oboe (David Weiss), bassoon (Dennis Michel), and horn (David Jolley) and put them all to the task of executing something between a musical satire and a sonic riddle. Yet the group made the complex score into a living, breathing entity, the first of several such exotic musical creatures to tread the Lobero stage that week.
The season-long project of examining the piano trios of Joseph Haydn got off to an auspicious start when Jerome Lowenthal, Jeff Thayer, and Alan Stepansky played the Trio in D Minor, Hob. XV:23. Haydn's inventiveness was easily a match for the fireworks of the 20th-century composers on the program, and the work was the best received of the evening. After the interval, more virtuosity followed in the form of Frank Bridge's Phantasie Quartet for Piano and Strings in F-sharp Minor of 1910 and the Sonata for Violin and Piano in E-flat Major, Op. 18 of Richard Strauss. Violinist Kathleen Winkler was outstanding in the latter.
Five nights later, and back at the Lobero, visiting artist Christopher Taylor brought with him tremendous excitement after his superstar turn last season as a recitalist on the Olivier Messiaen piano cycle Vingt Regards sur l'Enfant-Jesus. This year, Taylor was drawn further into the web of the Academy, performing two pieces with the Festival Orchestra, one by Messiaen-Oiseaux Exotiques-and one by Mozart, a piano concerto. Taylor delivered, lending logic and decisiveness to the whirlwind of the Messiaen and an earnest, glowing tone to the Mozart. Resplendent in a white dinner jacket, the pianist was called back to the stage several times at the end of the evening by a prolonged and well-deserved standing ovation.