Positively State Street
Blind Pilot Goes Green, ALO Double Books
Portland Folksters Hit Muddy Waters, SOhO Welcomes Back UCSB Funk Rockers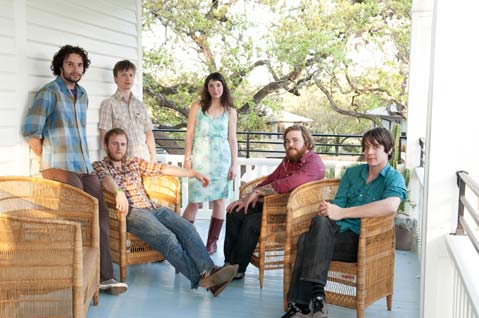 PEDAL POWER: If you're a music lover, a cycling enthusiast, or a combination of the two, chances are you've heard about Blind Pilot. You may not remember their name, but this one-time two-piece turned veritable folk collective have been gaining a steady amount of buzz for their sweet sounds, simple chords, and "creative" means of touring. You see, back when Portland popsters Israel Nebeker (vocals, guitar) and Ryan Dobrowski (drums) were sans backing band, the duo took their tunes on the road : via bike. Back in 2007, Nebeker and Dobrowski outfitted their cycles with custom trailers and departed on two West Coast tours, playing their songs to anyone willing to listen.
Following the jaunt, the inspired pair called in some friends and laid down tracks for what would become their debut full-length, 3 Rounds and a Sound. The result is a lush, fully orchestrated version of Nebeker and Dobrowski's folksy travel tales that call to mind bands like The Shins or The Avett Brothers.
"I think, being on the bike, I really connected to landscapes and such," explained Nebeker. "I wouldn't say my songs are about landscapes, but they always find a way of working their way into them. I draw a lot of emotions and energy from the Northwest Coast, and being on the bike tour and always being out there and vulnerable to the environment, it was definitely a significant part of writing the album."
Currently, the fully formed, six-piece version of Blind Pilot are touring around the States (in a van) and opening for such big-name acts as the Decemberists and Gomez. This Saturday, August 1, Nebeker, Dobrowski, and band members Luke Ydstie (upright bass, backing vocals), Kati Claborn (banjo, dulcimer, backing vocals), Ian Krist (vibraphones), and Dave Jorgensen (keyboards, trumpet) will return to their one-off roots for a headlining show at Muddy Waters Cafe (508 E. Haley St.). For more information and tickets, call 966-9328 or visit clubmercy.com.
CATAPULTS AND ORCHESTRAS: This weekend, SOhO (1221 State St.) truly seems to be stacking the deck, thanks to a string of eclectic performers that promise some big-time entertainment. Kicking things off are hometown heroes and Jack Johnson proteges Animal Liberation Orchestra -ALO to those in the know-who will bring their groovy funk pop jams to town for two back-to-back nights. Catch the quartet this Friday, July 31, and Saturday, August 1. Both shows start at 9 p.m. Call 962-7776 or visit sohosb.com for show info and tickets.
Then, on Sunday, the Victoria Court hotspot opens its doors to Brooklyn popsters Elizabeth & the Catapult. Fronted by indie powerhouse Elizabeth Abby Lynn Ziman, the threesome mixes the biting lyrical wit of folks like Lily Allen and The Bird & The Bee with creative instrumentation similar to outfits like Tilly and the Wall and Dirty Projectors, creating a sound that's simultaneously smart and delightfully listener-friendly. Elizabeth & the Catapult play SOhO on Sunday, August 2, at 8 p.m. with openers Erland and Taylor Strand.
THE FINAL STRETCH: But before you head out the door this weekend, don't forget that Friday, July 31, is the last day to vote in this year's second annual Road to West Beach battle of the bands. At midnight on August 1, we will officially close the polls on round one and begin the painstaking process of tabulating which bands scored the most online votes. Then, on Monday, August 3, we'll announce which nine music-makers (three from each region of the county) will move on and play live during the weekend of August 21. From there, it's only one live battle away from a main-stage slot at this year's West Beach Music Festival, featuring newly announced sets from Slightly Stoopid, Donovan Frankenreiter, and Ben Harper and the Relentless7. So, if you haven't already voted for your favorite S.B. band, head on over to independent.com/bands and select your pick.