Visual Arts
CAF Call For Entries '08-'09 Exhibition
Echo of the Whole Includes Work by Allebe, Dotson, Galanti, and Garcia
The title of this show refers to a figure of speech, metonymy, in which a part of something is used to signify the whole of it. For example, in metonymy, the sound created by holding a seashell to one's ear can stand for the roar of the whole ocean. Adrienne Allebe, Tera Galanti, Stephanie Dotson, and Servando Garcia operate in different ways and media, but they come together through the shared technique of isolating a detail in order to obtain a better, more imaginative view of the whole. There's also a common thread of ecological thinking about the impact of technology that aligns these artists.
The show's metonymic tendency burns brightly in the series of five small canvases by Galanti, titled For Ruby (2009). These three-by-five-inch oil portraits are life-sized renderings of what at first appears to be one active mouse. On consulting the exhibition catalogue, however, one learns that Ruby is a red-tailed hawk living at the Pacific Wildlife Care Center in Morro Bay, where the artist is a volunteer. Far from being portraits of a single acrobatic mouse, the For Ruby pictures are paintings of dead mice as they are defrosting to become food for the captive hawk. It's a dark metonymy-frozen hawk food is part of a somewhat desperate whole, yet Galanti, who works with animals, seems comfortable enough with it.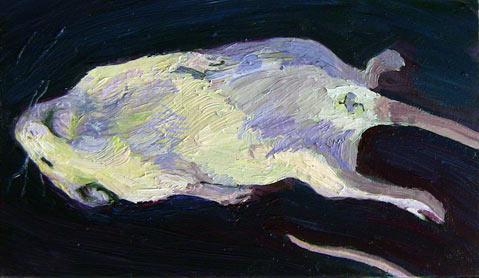 Allebe also elaborates on the limits of species thinking in her lyrical and complex drawings, which are based on a collage process and merge environmental and mythical subjects in a vortex of becoming. There's a ghostly thickness to the pictures Allebe creates by first collaging, then drawing and painting images based on her initial creations.
Dotson explores "minor" genres such as the woodcut and the decal in her technologically advanced and often three-dimensional works. Her "Stick" (2009) creates a kind of woodcut vector windstorm in the corner of the gallery.
Garcia paints subjects mostly from his home life but uses a process that at once simplifies these images and saturates them with suggestion. In other words, Garcia's art does more with less, and in the outstanding series "Searching 2" and "Searching 3," the image of a small child hanging onto the back of an adult who is on hands and knees succeeds in indicating a place where art, life, and play meet in wonder.