Film & TV
Seraphine
Yolande Moreau, Ulrich Tukur, and Anne Bennent star in a film written by Marc Abdelnour and Martin Provost and directed by Provost.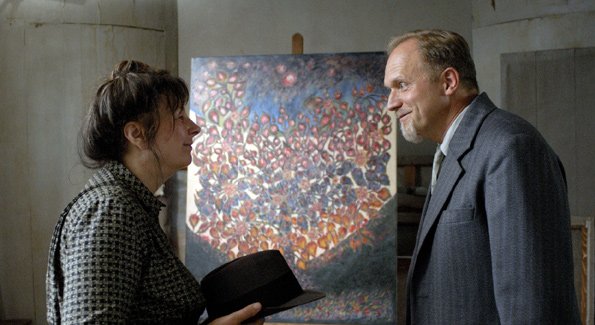 That famous thin line between insanity and genius is called success, and history tends to smile on emotional catastrophes like William Blake, Vincent Van Gogh, and Sylvia Plath because they made the canon, becoming eccentrics rather than loons. What's interesting about this French film about outsider artist Seraphine Louis is that Louis is not quite famous, and so the film refuses to romanticize its topic. The tale tells us that Louis painted at the behest of her guardian angels; turns out they told her to do a lot of stupid things, too.
Set in the early 1900s village of Senlis, where Louis was "discovered" by the German art critic Wilhelm Uhde, this excessively arty docu-film slowly develops its scenes. The artist meanders through her workday, supporting herself as a dowdy domestic, and we watch as she collects the odds and ends that will become the pigments for her floral, psychedelic paintings. Shot in a curious combination of electric blues and blacks, contrasted with a stilted Masterpiece Theater mise en scene, Seraphine means to be haunting, but more frequently feels tedious. The cast is defiantly unattractive, too.
None the less, Seraphine offers a nice contrast to Hollywood myths about following your dreams. It examines our urge to self-express by weighing obsession against daily life. If you think about it, the film tells us, creativity clearly is a species of madness – but at least it's more interesting work than cleaning house.