JAZZ FEASTING: Not to put too Interview magazine-y a point on it, but I had a nice, tasty, and talky lunch encounter not long ago with Stix Hooper. Fate and timing had it that we met at Cafe Buenos Aires at precisely the time of the Fiesta Parade's start in early August. Talk of the snafu-ish state of jazz, locally and globally, unfolded as lunch progressed. The environment grew increasingly festive and chaotic outside, sometimes spilling into the inner bar area. By lunch's end, the mirthful mayhem resembled the opening scene of Under the Volcano, minus the tipsy Albert Finney.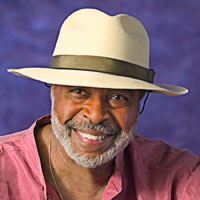 But we digress, slightly. Hooper, of course, is the former drummer from the Crusaders, who helped supply a new, supple groove to the soul-jazz sound starting in the late '60s, long before smooth jazz smoothened the groove out into corporate baby food. His famed band played more than once in the Arlington Theatre, just across the street from Cafe Buenos Aires. Of course, Hooper is also an important figure, of late, in the jazz atmosphere of Santa Barbara County, thanks to his role as founder, director, and general-purpose hopeful spearhead of the Solvang Jazz Festival, which begins its third annual run the last weekend of September.
It all began as a seemingly ripe idea for the enterprising Hooper, drawing on the natural charm, tourism magnetism, and European-esque qualities of Solvang. He envisioned creating a stateside corollary to the countless jazz festivals in picturesque Europe towns such as in Marciac, France.
In the first and second Solvang festivals, Hooper ushered in some impressive and "real" jazz players, including the late, great Freddie Hubbard, young piano sensation Taylor Eigsti, James Moody, Patrice Rushen, Hubert Laws, Airto Moreira, Monty Alexander, Dr. Lonnie Smith, Jean-Michel Pilc, and Gordon Goodwin's Big Phat Band.
Not surprisingly, as with most jazz ventures in America, tending the festival fires has not been easy. Audiences have been lean-ish and the ideal acquisition of a corporate sponsor to keep the machinery in shape is, so far, elusive. Hooper wonders if there will be a fourth festival, but retains a stubborn optimism. This year's model, with venues including the charming and jazz-friendly Solvang Festival Theater, consists of a multi-artist tribute to Freddie Hubbard, the accomplished vocal group Take 6, Justo Almario, and the virtuosic Russian jazz pianist Eugene Maslov, whom Hooper also manages.
As we lunched, a pack of revelers whooped it up to the tune of an MC Hammer rhyme. "Should we be clapping, too?" Hooper asked them, slightly miffed. "See, that's what I mean," he told me. "Most people in America only know what they're fed by pop culture. They think Coltrane is a train for delivering coal." But his cynicism-a common fight song among frustrated jazz musicians, jazz fans, jazz critics, and all other jazz-obsessed peoples-is served with a smile.
In this region, September turns out to be a big month for jazz, struggles notwithstanding. Dave Brubeck returns to the Lobero on September 22 (in an otherwise regrettably jazz-starved Lobero season schedule, in response to the economic blues), and Wynton Marsalis brings his Jazz at Lincoln Center Orchestra to the Arlington on September 27. On the left end of the spectrum, tonight (Sept. 10), Colter Frazier's monthly Santa Barbara New Music Series at Muddy Waters-a great forum for mostly avant-ish jazz players from Los Angeles-brings a return engagement of multi-reed man Vinny Golia, the dynamo, record label owner, and all-purpose DIY guru from down south, an inspiration to musicians and self-determining music-makers off the mainstream jazz radar.
No California jazz addict's calendar is complete without mention of the Monterey Jazz Festival from September 18-20, a mere four-hour drive up the coast and one of the world's finest and oldest examples of how it's done, jazz festival-wise. In jazz hereabouts, September songs are plentiful, praises be.