Environment
Getting Grief for Going Green
The Promise and Predicament of Cuyama Valley's Quail Springs Permaculture Farm
There's a grand experiment in sustainability going on right now in the Cuyama Valley, where northeastern Santa Barbara County's carrot fields, pistachio orchards, vineyards, and dusty plains collide into Ventura, Kern, and San Luis Obispo counties. In one of the valley's uppermost canyons, close to where the almost-always-dry Cuyama River once flowed freely out of the pine-studded mountains, is a 450-acre farm known as Quail Springs, located just within the Ventura County border. Home to 14 full-time residents, open to the public for occasional tours, and hosting students from all over the world who are interested in eco-minded living, Quail Springs is fast emerging as a leading showcase for sustainable design and a poster child for permaculture, as both residents and visitors work to create a self-sufficient settlement while repairing a landscape severely denuded over the past 100-plus years by clear-cutting and grazing. "Every year, the Cuyama Valley is basically heading out to the sea," explained founder Warren Brush about the erosion that threatens all aspects of life there, as it does in other similarly destroyed ecosystems across the planet. "It's a cycle we're trying to stop in this canyon."
But according to Brush-who started the "eco-village" about five years ago after nearly a decade running the much-acclaimed Wilderness Youth Project in Santa Barbara-the nonprofit farm is also simultaneously becoming a battleground between green building and government bureaucracy, a war erupting in various jurisdictions around the country as environmentally friendly innovation outpaces legislation. For Quail Springs, that battle amounts to threatened fines of at least $500 per day for violating various county building codes. If ever levied, these fines would quickly undermine all the positive work being done. Explained Brush during a tour of the property in late May, "Innovative thinkers are having to do things illegally just to test them."
At Quail Springs, such innovation equates to, among other things, constructing buildings with cob, straw bale, adobe, bamboo, and natural clay plaster rather than steel, concrete, and lumber; a power grid solely fueled by solar panels that dot the canyon walls; bio-swales that trap precious rainwater in the ground rather than let it flow away with the topsoil; raising creek beds back to pre-erosion levels; growing dense food forests that can serve as perennial sources of fresh produce as well as shady habitat for ducks, guinea fowl, and other protein sources; perfecting greywater systems that recycle dirty dishwater into irrigation for crops and animals; composting toilets that catch and reuse human waste; and developing swimming ponds filled with edible cattails, largemouth bass, and catfish. In short, if a system can be designed in accordance with nature and serves a purpose to both humans and the entire ecosystem, it's fair game at Quail Springs.
Of course, not everything being done at Quail Springs is illegal. But according to Ventura County building laws, much of the new construction and conversion of old buildings with the use of recycled and natural materials is not up to code. "There are a lot of people who want to go above and beyond and build more green, more energy efficient, more environmentally friendly, and more of a fit into the natural environment than the buildings that were traditionally built," said the county's building director Jim MacDonald. "But what's happened is the building products haven't caught up : Building materials have to be tested to make sure that they are safe for their intended use." And that's a particular concern in earthquake country. "I don't know how a building made of clay and straw would actually react in an earthquake," said MacDonald. "I don't know that anybody really does."
Those concerns, however, do not seem to be impeding green construction in Santa Barbara County. "We haven't had any issues like that," said the county's building director Mike Zimmer, though he understands "the technology is a little bit ahead of the regulatory curve." Zimmer said that his department has approved a handful of straw-bale homes as well as other structures made from "alternative materials," although he said that, like every other county, they must be up to existing seismic and other state codes. Santa Barbara County, meanwhile, also has a voluntary program in which those who want to build green can get their plans expedited, primarily because the county wants to show off the more efficient buildings in hopes of inspiring others.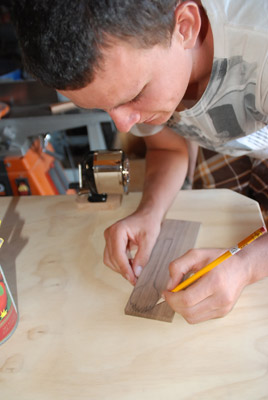 Back at Quail Springs, Brush believed that his Ventura County problems are caused in part by the powerful construction industry, which values profit over sustainability. "Natural building has been codified out because it's so inexpensive," said Brush, claiming that while accepted and pricey steel and lumber frames are known to decay and degrade, the unacceptable but nearly free bamboo framing does not. "With clay," said Brush of his favorite building material, "nobody makes a profit because it's available everywhere." Plus, said Brush, "It's really hard to use recycled materials in the building industry. Even if you use a log from your land as a pillar for support, you have to pay someone to come out and grade the log. Or if it's used material, you have to have it re-graded." This profit-minded mentality, claimed Brush, is why a conventionally constructed home is only guaranteed for about 40 years, whereas there are more than 70,000 cob homes in England that have stood the test of time for more than 200 years.
But those theories are a "load of hokum," said Ventura County's Jim MacDonald. "Building officials are not concerned where you get your building products. Building officials are concerned whether the products and methods of construction comply with state law," he explained. "I don't want on my conscience a building that collapses in a heavy wind and rain storm."
This week, however, Brush explained that Quail Springs' problems with Ventura County seem to be on the path toward resolution. Meanwhile, a recent visit from Santa Barbara County's 5th District Supervisor Joe Centeno also resulted in some contacts in Sacramento, with a possible move on the horizon to get special state protection for the farm's sustainable design experiments. Rather than repeatedly fight against the building rules, Brush understands that bringing government into the conversation will only help the green movement at large. "If we are able to partner with these state and county agencies," said Brush, "that's when we're going to see a huge bump and evolution in how human settlements move toward sustainability."
And with a stronger and stronger push toward eco-minded design coming from the top down, Brush is pleased with the growing relevance to his work. "The mainstream is really looking more and more to solutions, and that leads them right to us," he explained. "Five years ago, a lot of people weren't very interested in our work. But our phone is literally ringing off the hook these days."
4•1•1
Quail Springs is offering educational farm tours on September 27 and October 31. See quailsprings.org. The farm is also cosponsoring Carbon Economy Courses from October to December. See carboneconomysb.com.