Outdoors
Douglas Family Preserve Improvements Scheduled Next Week
Trail Maintenance Work and Native Plant Restoration Highlight Efforts at the Preserve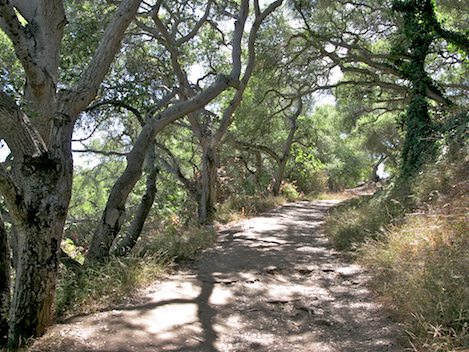 When an anonymous donor offered to help make needed improvements at one of the City of Santa Barbara's public parks, the Douglas Preserve was chosen both to help with needed native plant restoration efforts and to improve public access along a section of the trail leading up from the Arroyo Burro Beach parking area.
The grant, totaling $17,138, was offered to the Land Trust for Santa Barbara County (LTSBC) several months ago and in conjunction with City Parks & Recreation staff, the Santa Barbara Trails Council and Growing Solutions a proposed scope of work was developed. This included improvements to the Oak Grove Trail as well as the planting of more than 700 native plant seedlings.
The Oak Grove Trail connects from the public parking lot east of Arroyo Burro County Park up the north hillside to the Douglas Family Preserve. The trail, composed largely of degraded asphalt from the former nursery road, will be repaired to smooth the tread and reduce erosion. The trail work will be completed by the Santa Barbara Trails Council's trail crew.
In addition to the trail maintenance work, LTSBC is working with Growing Solutions, a non-profit native plant nursery, to grow hundreds of native plant seedlings that will be planted in areas on the southern part of the preserve (not near the Oak Grove Trail) where some native planting has already been done. The Land Trust grant will cover the cost of plants, mulch, irrigation supplies and other materials.
Work on the Oak Grove Trail will begin this Monday, September 14 and will continue for the next two weeks. During the trail maintenance work, scheduled from 8AM to 5PM each day, the trail will be closed to use beginning at the bridge crossing and extending uphill to the mesa area. Those interested in visiting Douglas Preserve during these hours are encouraged to use other access points.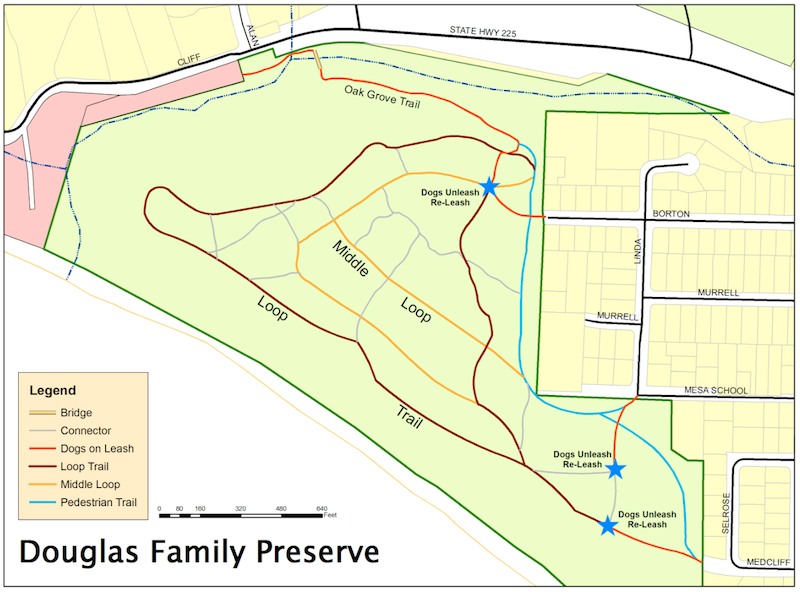 The native plants project will be installed in Feb or March 2010 by a combination of Friends of DFP, volunteers and city parks staff. If you have an interest in volunteering with the project (planting, weeding, watering) please visit the Friends of DFP website or contact them via email at DFPRestoration@yahoo.com. Some of the native species that will be planted include Cliff aster, Quail bush, California rose, Fiesta flower, Coast sunflower, Primrose, Narrow-leaved milkwood, and various sages and lupines.
"This project is a great example of how, during tough financial times for local government, people can still find ways to help protect and enhance our local natural areas," Executive Director of the Land Trust noted. "A private donor, three non-profit organizations and City Parks & Recreation have teamed up to make Douglas Family Preserve an even nicer resource for our community."