Food & Drink
Serving Up Ruth's Chris
Finding Prime Rib and Primer Service at La Cumbre's Corporate Behemoth
"It's more about the sauce and bread," said Ike Martinson, my waiter at a restaurant where you wouldn't think a server would make such a claim. But it's just the sort of thing I do want to hear-some inside info-and it makes clear there's a human heart ticking in the corporate behemoth that is the publicly traded Ruth's Chris Steak House, now in more than 150 locations. Simultaneously, Ike is doing his best to sell the signature barbecue shrimp, and it works on me.
Martinson explained the Ruth's Chris experience as he sees it: "A lot of people are intimidated by it, but it's a lot more casual than people think. It's more of a Southern hospitality. We want people to be able to come in regularly, have favorite waiters. It's a simple place, really-steak, butter-it's not hard to sell."
Meanwhile, I'm liking the barbecue shrimp more than I would want to admit. It's a surprisingly delicate dish, a line of the crustaceans in a pinkish sauce that's napped, not dumped, with the heat a slow build. They say it's New Orleans style-they say that a lot as it's all part of the Ruth Fertel founding story so crucial to personalizing the place-and while a John Besh or even more so a Leah Chase might quibble with that description, it is a truly pleasing dish. There definitely is wine reduced at its heart, giving it a satisfying richness. And then the little door stopper-shaped garlic bread hunk on the end, redolent with the stinking rose, makes a fine sopper.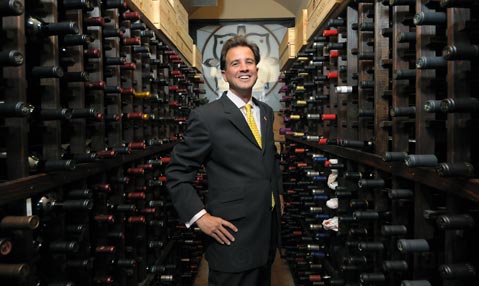 When I opt for the rib eye for my main, Ike has a plan: "Go for the Lyonnaise potatoes. Their crunch matches well with the soft steak. You won't need more to eat." Unlike most upscale places, he also doesn't up-sell. There's no effort to talk me into any of the sauces, which, alas, cost extra; he admits the USDA prime is rich enough and can get lost in blue cheese. And he doesn't try to convince me to go for the cowboy rib eye, billed on the menu as a "huge bone-in portion." Instead he later admits, when I can't even finish my non-cowboy steak (I am as suburban as they come), "Everyone takes stuff home. A couple of years ago, a friend after a couple of drinks dared me to eat the whole porterhouse. That's 40 ounces. I couldn't sleep for two days."
In case you're thinking that this location's manager, Hakan Kocak-who has worked for Peninsula Hotels and at the famed, secretive Club 33 at Disneyland-was merely setting me up with the best Ruth's Chris has got, several other impressive servers visited me throughout the evening to chat. Nicole Flowers has also worked at what she calls the "more stuffy" Morton's, and put the Ruth's Chris vibe this way: "I'm not going to refer to you as a dude at the table, but they don't require us to do a five-minute spiel, either. It's my job to figure out what a table needs."
Flowers also points out that, of late, Ruth's Chris has been drawing two slightly different crowds: the regulars and those drawn in by the special Ruth's classics summer menu: $39.95 for selected starter, entree, personal side, and dessert. So Ruth's Chris now seems to be about the bargain hunters, the special event-goers (at one point a "Happy Birthday" song breaks out in the bar), and the usual high rollers willing to take advantage of the spot's Wine Spectator Award of Excellence list.
Flowers appreciates the regular Ruth's Chris customer, too, the ones "who want to get to know us. A lot of us just graduated school or are in school, and often customers are interested in knowing what field you're in and helping you network." Flowers, for instance, has a biology degree but isn't sure where she wants to go with it.
Martinson, on the other hand, is hoping to be a pilot. "I'd like to do that, but it's a long, expensive journey," he related. "This is an easy job to work with another career." As he told me about his long-range plans, he almost reflexively picked up the napkin I abandoned on the table and folded it into a neat triangle. That Southern hospitality just never stops.
4•1•1
Get prime service and prime steak at Ruth's Chris Steak House in La Cumbre Plaza (3815 State Street, Ste. #131). Call 563-5674 or see ruthschris.com.