Books
Khaled Hosseini to Speak at Arlington
Bestselling Author to Discuss Life in Pre-Soviet Afghanistan
From the period of its rule under Genghis Khan to its 1979 Soviet invasion, the area today known as Afghanistan perpetually has been at the crossroads of military conquest. Today, the fractious nation lies at the very center of a global hotbed, yet few Americans understand the place or its people beyond the context of actions publicly ordered by our own military commanders. Dr. Khaled Hosseini, an Afghan diplomat's son who spent his childhood years in pre-Soviet Afghanistan, uses his storytelling gift to relate the complex history and culture of Afghan people in his novels The Kite Runner and A Thousand Splendid Suns. Both are epic yet personal tales that follow the lives of Afghans through the most tumultuous years in the country's recent history. On Tuesday, September 29, UCSB's Arts & Lectures and Westmont College bring Hosseini to the Arlington Theatre.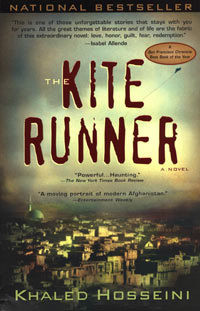 Having lived in Tehran and Paris during parts of the 1970s, Hosseini's family gained political asylum in the United States in 1980, eventually settling in San Jose, California. Adjusting to their new life in America wasn't easy. "I didn't speak any English, and started school 10 days after I got here," he explained in a recent telephone interview, "but for my folks, it was even harder. They were in their forties and had to leave behind their lives and identities." Despite the obstacles they faced, Hosseini's family made a successful transition. He went on to receive a medical degree from UC San Diego in 1993, practicing medicine until after the release of The Kite Runner, a story familiar to many from its 2007 adaptation for film.
Like Hosseini himself, the protagonist in The Kite Runner, Amir, is caught up in the upheaval of the Soviet invasion. But the autobiographical nature of the novel ends there, allowing Hosseini to explore a familiar situation through the eyes of a unique character. "One of the attractions of that character is that he was so deeply flawed," Hosseini said. "He lacked courage and could tell lies and could be petty and cruel, but he had an endearing capacity for self-analysis. It was very interesting for me to write [Amir] because he had so much room for improvement, and he also had a much broader arc of transformation than any of the other characters in the book."
Although his time spent living in the capital city of Kabul is now a distant memory, the roots of Afghan culture prove deep in Hosseini's writing. Recently, he has returned to Afghanistan twice-with plans to return again-under the auspices of the United Nations Refugee Agency. "The situation is pretty serious in Afghanistan," he said. "In the south, it's a hotbed of insurgency, and in the midst of IEDs [Improvised Explosive Devices] and suicide bombings, it's been tough to get development programs started."
With more than 50,000 U.S. troops in Afghanistan-commanders are calling for more-the UN estimates the Afghan population itself to be more than 28 million as of this year. Many Afghans have moved from rural areas into cities, and a number of challenges loom, from rebuilding a crumbling infrastructure to wrangling with foreign policymakers who tend to lump Afghanistan's problems with those of Iraq. "The lessons from the Iraq War don't necessarily apply to the war in Afghanistan," said Hosseini, positing that although most Afghans view the U.S. presence positively, public opinion has begun to shift during the last year. "People are beginning to question the purpose of the war."
The tumult central to Hosseini's own formative experience has been played out again and again-more often to a greater extreme-in the lives of those still fighting to survive in Afghanistan. "I spoke to a lot of people in the streets of Kabul, and they were very generous with their first-person accounts, which were sometimes in very vivid detail," Hosseini said. "A lot of times the stories were verbatim in the pages of my books. Things [in Afghanistan] are at a very critical stage right now. I hope we don't neglect [the] millions of people there who need help."
4•1•1
Khaled Hosseini will appear at the Arlington Theatre on Tuesday, September 29, at 8 p.m. to discuss his writing and his humanitarian work in Afghanistan. For tickets, call 893-3535 or visit artsandlectures.ucsb.edu.