Film & TV
Coming to Your Big Screen Soon
Wrapping Up the 2009 Telluride and Toronto Film Festivals
The serious film season is upon us, and it couldn't arrive at a better moment. This year has not given us a lot to sing about film-wise but for a handful of exceptions-The Hurt Locker and District 9 come to mind. But after a trip to the Telluride and Toronto film festivals, there are signs that 2010 will be a good year for film after all.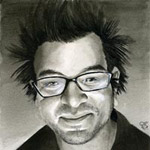 The undisputed five-star knockout at both festivals this year was Jason Reitman's Up in the Air. In only three films, Reitman has established himself as one of the most talented directors working in cinema today. Part Billy Wilder, part Preston Sturges, Reitman's blend of cynicism and heart make his latest film an irresistible experience. As he proved with Juno, he's also capable of tapping into the zeitgeist. Air deals with a corporate downsizing expert whose life on the road is rocked by meeting his female counterpart. The movie deals head-on with our current economic crisis and our ennui, but with panache, humor, and sensibility. It also boasts a killer performance by George Clooney in a career-defining role. Expect Up in the Air to be in most film critics' best-of-the-year list-and for it to be showered with awards and nominations.
Another standout is Precious: Based on the Novel Push by Sapphire. This film, which had been previously lauded at Sundance, made a triumphant splash at Toronto, spearheaded by Oprah Winfrey, who has become the film's executive producer. Precious is about an illiterate, overweight African-American teenager who's pregnant with her second child and invited to enroll in an alternative school in hopes of changing her life. The movie's something short of a miracle-heartbreaking and uplifting. Lee Daniels's direction plunges us to lower depths of despair and lifts us right up with hope, and nimbly coaxes unexpected performances by an amazing ensemble-including one by an almost unrecognizable Mariah Carey. I was very emotional watching this film. It's a gem, and I'm glad that it has the support of Oprah, so it will reach a broader audience. It deserves to be seen. Expect many Academy Award nominations, including one for actress Mo'Nique, who plays a monstrous mother, and for newcomer Gabourey Sidibe as Precious.
An Education is another film you'll be hearing a lot about in the next few months. It is based on the well-known memoir by Lynn Barber about her coming of age in 1960s London and a love affair with a playboy twice her age. Directed by Denmark's Lone Scherfiq, An Education has one of the best screenplay adaptations this year; it was written by Nick Hornby, the novelist responsible for About a Boy and High Fidelity. But the most significant thing about An Education is that it has a revelatory performance by Carey Mulligan in the lead role. Mulligan's portrayal has already been compared to Audrey Hepburn's in Roman Holiday, and this often-used comparison to describe young actresses is absolutely right in this case. Mulligan will get an Oscar nod for this role, and yes, a star is born.
The Coen brothers premiered in Toronto their most personal and poignant film to date: A Serious Man. It's a very black comedy about what it must have been like growing up Jewish in the Midwest in 1967.
Dividing critics was Werner Herzog's Bad Lieutenant: Port of Call New Orleans, loosely based on Abel Ferrara's 1992 film. Nicolas Cage gives his loosest and wackiest performance in a while, but also one he's very much in control of. The material suits him. It's a fun ride. Trippy, silly, dark, and a rush. I haven't laughed so hard in a long while.
One of the toughest films to sit through but one of the most rewarding was the screen version of Cormac McCarthy's bestselling book The Road. Imagine No Country for Old Men but bleaker, and you get the picture. It's about a father protecting his son from all the danger lurking around them in a very near apocalyptic future. The art design is extraordinary, but the film is a must-see because of Viggo Mortensen's performance as the father. This is one of his best acting works to date, and definitely one of the best of the year.
Speaking of great performances, Colin Firth made a triumph arrival at Toronto with fashion designer Tom Ford's film debut, A Single Man (don't confuse it with the Coen bros' similarly titled film). When Christopher Isherwood's novel of the same name was published in 1964, it shocked people by its frank portrayal of a single day in the life of a middle-aged homosexual man. The film adaptation is as daring and as shocking-and gorgeous to look at. Ford's aesthetics are all over this film. But both Firth and Julianne Moore, playing the role of the gay man's best friend, are fearless in this, with Firth providing a particularly memorable performance in this difficult film.
A once-in-a-lifetime film experience for me was seeing a trilogy of films in Telluride called Red Riding. They are the adaptation of writer David Peace's Red Riding Quartet. Set against a backdrop of serial murders, including the Yorkshire Ripper case, they deal with multilayered corruption and feature several recurring characters across the four books. Though real crimes are featured, the scripts are fictionalized and dramatized versions of events rather than factual accounts. All three films are fantastic-they resonate deeper as you watch them all together, although they each also stand on their own. The cast is terrific. The first part, called 1974, is directed by Julian Jarrold (Brideshead Revisited); the second, called 1980, is directed by James Marsh (Man on Wire); and the final installment, called 1983, is directed by Anand Tucker (Hilary and Jackie). The films will have a limited release later this fall.
Last but not least I should mention my favorite film from the two festivals: Jacques Audiard's A Prophet. First-time actor Tahar Rahim plays a young Arab who gets sent to a French prison, and there we witness his education on how to become a criminal. The film is intense, vivid, and intricate, recalling both The Godfather and The Shawshank Redemption.