Sports
Hoosiers Hit Harder
UCSB Soccer Stars Take on Indiana in Nationally Televised Game This Friday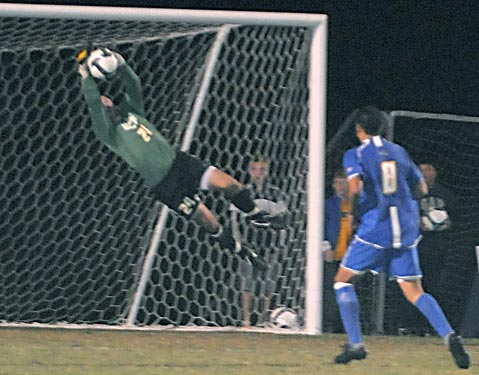 Just as imports have revolutionized the auto industry in the United States, they are making dynamic breakthroughs in college athletics. Three of the top scorers on UCSB's men's soccer team hail from Sweden, Canada, and Ghana. But it was an All-American kid from Jackson Hole, Wyoming, who saved the Gauchos in their most recent outing.
Goalkeeper Sam Hayden preserved UCSB's 1-0 victory over UC Irvine last Sunday night with the leaping ability and the sure hands of an accomplished wide receiver. That's what he was in high school football-an all-state player as a junior and senior. In soccer, he earned three all-state commendations, and as a senior he was Wyoming's Gatorade Player of the Year. He also starred in basketball.
"I can dunk the ball," Hayden said. UCSB plays the 5'11" junior in defiance of custom. Most college goalies top six feet and display vast wingspans. "He might be undersized, but he's unbelievably athletic," Gaucho coach Tim Vom Steeg said. "You look for a goalie the rest of the team has confidence in." Hayden's toughness at Arizona's Yavapai College impressed Vom Steeg. "He finished last year with two broken ribs," the coach said. Yavapai compiled a 50-2 record and won back-to-back National Junior College Athletic Association championships with Hayden guarding the nets.
Hayden and the Gauchos will show their stuff on national television (Fox Soccer Channel) for the second time this season on Friday night (Oct. 2) when they host Indiana. A big crowd is expected in 17,000-seat Harder Stadium for the 8 p.m. match between the visiting Hoosiers, a team that established a solid tradition in the last century, and a UCSB team that has thrust itself into the cutting edge of college soccer.
The two sides collided in the 2004 NCAA final, and the old guard prevailed, Indiana winning its seventh national title via a penalty-kick shootout after a 1-1 tie. The players on that Gaucho team-minus seven who are playing professional soccer-will be honored at halftime Friday night. They sowed the seeds for UCSB's NCAA championship in 2006. The Gauchos traveled to Indiana a year ago and came away with a 2-1 victory.
Vom Steeg described the Hoosiers as "a disciplined, hard-working, blue-collar team. They're like a Bobby Knight basketball team. They don't beat themselves." Will Bruin, the Big Ten Freshman of the Year in 2008, is the top scoring threat for the Hoosiers, who were 4-2-1 entering the week.
UCSB (6-2-1) has a mercurial bunch of players who can look like world-beaters one night-witness their 4-0 destruction of Rutgers in last month's televised game-and find themselves struggling the next time out. They showed grit in their crucial Big West opener against Irvine last weekend, two days after a miserable 4-2 defeat in sweltering heat at San Diego State. UCSB's defensive lapses left Hayden exposed to some rockets by the Aztecs.
The Gauchos have outscored their opponents 20-11. Leading the way with four goals each are Michael Nonni, a fabulous freshman from Vancouver, B.C.; Martin Hedevag, a head-banging senior from Gothenburg, Sweden; and David Walker, a swift senior from Orange, California. Walker has been playing with a protective muff on his right hand after surgery to repair four broken fingers. Other key players are sophomores Danny Barrera, Luis Silva, Waid Ibrahim, and Michael Tetteh.
The abundance of talent from diverse backgrounds can have its drawbacks. "Ten days before the season started, we had to put seven or eight styles into one team and make it work," Hedevag said. "That's not much time to prepare."
Barrera, born in Colombia but raised as a soccer player in Thousand Oaks, is a skilled playmaker. "As the program moves on," he said, "we're developing a professional, technical game."
The fan support is one of UCSB's greatest assets. The Gauchos led the nation in attendance last year. They had more than 4,000 at the Irvine game, and 8,425 at last week's exhibition match with the Mexico U17 national team. The 2010 College Cup-next year's NCAA Final Four-will take place at Harder Stadium.
"The Mexicans were nervous when they saw the crowd," Barrera said. "No other place in the U.S. can compare with Santa Barbara for college soccer."
GAMES OF THE WEEK: San Marcos High's homecoming football game Friday night (7pm) pits the Royals against the unbeaten Oxnard Yellowjackets : UCSB's alumni water polo game Saturday at noon will feature members of the team that won the NCAA championship in 1979. Until the soccer team came through in 2006, it was the only Division I title won by Gauchos. Among the aquanauts on hand for the 30th-anniversary reunion will be Coach Pete Snyder, Greg Boyer, and John Dobrott.