Theater
Om at the Lobero, Thursday October 1
Boxtales Show Brings Ancient Tale to Life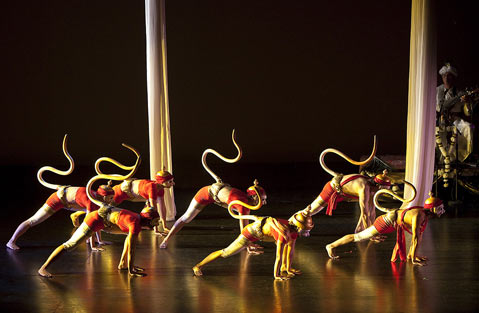 Take a virtuous hero and his young bride, toss them into a power struggle between a righteous king and his jealous queen, throw in a city of demons and an army of monkeys, mix in a little misogyny, and you'll have the beginnings of the Ramayana. Like a bible story or a Greek myth, this epic Indian legend is rife with peril and adventure, unexpected plot twists and lessons in morality.
For Boxtales Theater Company, tackling a story the size of the Ramayana was a serious proposition. With Om: An Indian Tale of Good and Evil, they have proved they're up to the challenge.
On Thursday night, 14 performers transformed the Lobero into a magical kingdom where stampeding horses shook the earth, enchanted thrones materialized and disappeared, and sacred fires burned only impurities. Throughout the evening, Montino Bourbon's original, recorded music and live performance created the emotional texture for each scene, conveying elation, then grief, and then wonder.
From the primal drumbeats of the opening procession to the final scene in which Rama's beloved wife Sita is consumed by the earth, Om cast a spell on its audience. As always in Boxtales' work there was irresistible humor: Matt Tavianini's high-pitched laughter set the audience twittering early on, and the animal antics of the stiff-tailed monkeys raised more than one guffaw. But this show also plumbed the depths of loss and abject sorrow. When a blind woman ran her hands over the body of her dead son, I was surprised to feel tears pricking my eyes.
Visually speaking, this production covered all the bases one might have hoped for: gorgeous, sparkling headdresses and embroidered silk costumes by Timo Beckwith and Kira Jones-Gold, a blend of traditional staging and physical theater techniques, beautiful acrobatic artistry devised by Jenny Sauer-Klein, and some lovely shadow-puppetry. But Om went beyond aesthetics, taking seriously the moral dilemmas raised in the Ramayana. Yes, good guys triumphed over bad guys and perky monkeys saved the beautiful princess from certain death, but there were also troubling and unresolved issues: If the way of dharma includes honoring one's word at all costs, what do you do when you change your mind? If a leader's choices cause dissent among his people, should he change his ways, or stand by his beliefs? By refusing to provide glib solutions, Boxtales' production made this ancient myth vital and unforgettable.