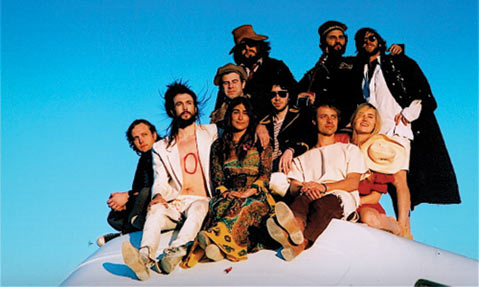 For music fans, the exuberance that comes along with attending a good festival often is accompanied by an equal-sized sense of dread. How will I get from Point A to Point B in only 15 minutes? What if Band X runs long and I miss Band Y? When the hell am I going to find time to eat/sleep/drink? And don't even mention the whole trying-to-meet-up-with-friends thing.
Perhaps it's for this reason that New Noise Version 1.0 seems so appealing. The inaugural fest boasts just enough great acts to fill a schedule without overwhelming the show-going masses, and three out of four of the participating venues can be seen from one another's front door! (Eat your heart out, Austin City Limits.)
Below is our day-by-day rundown of what up-and-coming acts are worth checking out. Ready your pencils, concert fiends, 'cuz you're gonna want to take notes.
Thursday
Dead Country (Velvet Jones, 8:50pm): This trio from Los Angeles may not have a label to call home just yet, but that certainly isn't stopping them from making their presence known. These guys boast (early) Dashboard Confessional's heart and Jimmy Eat World's well-timed, hard-hitting licks. Plus, after Dead Country's early set on Thursday, the band will head out to AZ, then back to SoCal for a string of sold-out dates with Sunny Day Real Estate. Visit myspace.com/deadcountryla.
The Kicks (SOhO, 10:40pm): Despite the oversaturated reggae market, this San Luis Obispo-based seven-piece stand miles above their positive vibin' contemporaries. Fronted by the sultry Reesie G., The Kicks deliver slow grooves, pulsating bass lines, and sax-backed hooks that succeed in their simplicity and restraint. Budding jam bands, take note. Visit myspace.com/thekicksslo.
Friday
Nathen Maxwell & The Original Bunny Gang (Velvet Jones, 10:45pm): As the bassist for Celtic punk band Flogging Molly, Nathen Maxwell was all kilted spit and swagger. But as the frontman for his latest project (complete with backup band Bunny Gang), Maxwell's learned to embrace his acoustic side. In place of wailing bagpipes we get strummy anthems and island-style percussion, making for a roots band that still manage to embrace just a hint of their hard-rockin' history. Visit myspace.com/nathenmaxwell.
Nico Stai (Sandbar, 9:50pm): Yet another unsigned wonder, this Spaniard-cum-Los Angeleno walks the fine line between Joseph Arthur's sentimentality and Tom Petty's carefree rock 'n' roll attitude. The result is some of the best indie rock we've heard of late, not to mention one of the biggest coups this weekend's lineup has to offer. Visit myspace.com/nicostai.
Airlines (Whiskey Richard's, 12:15am): We'll concede that the best Smiths knock-offs this side of 2000 are Interpol, hands down, but what this L.A. four-piece lack in Morrissey-style chops they more than make up for in catchy choruses and synthy builds. A perfect soundtrack for a late-night dance party. Visit myspace.com/airlinesmusic.
Saturday
Le Petit Protest (Velvet Jones, 8pm): Kicking (or rather, nudging) off Saturday's Indy/KCSB-curated night of tunes is this Lompoc-rooted six-piece. Part jangly pop, part contemplative lo-fi folk, Le Petit promise one of the dreamier sets of the fest-not to mention tunes that make us proud to call them locals. Visit myspace.com/lepetitprotest.
The Happy Hollows (Whiskey Richard's, 9:20pm): Fans of the Yeah Yeah Yeahs will no doubt swoon over leading lady Sarah Negahdari's high-pitched scream-sing, not to mention the band's electro-clash-meets-garage-rock sensibilities. We're calling this accessible experimental rock, reminiscent of Deerhoof with just a little more 'tude. Visit myspace.com/thehappyhollows.
Edward Sharpe & The Magnetic Zeros (SOhO, 11:30pm): You may remember Edward Sharpe frontman Alex Ebert as the bizarrely Bowie-esque voice behind L.A.'s Ima Robot, but don't expect any spacey synth here. A motley crew of players help to make up Ebert's latest musical adventure, a zany and '60s-inspired folk-a-palooza that moves between orchestral dirge and psychedelic pop. An absolute can't miss. Visit myspace.com/edwardsharpe.