Opinion
Janet Duff Caballero: Actress, Director, and Producer
1938-2009
The curtain has fallen on one of the most amazing women in Santa Barbara. Janet Duff Caballero passed away at her home in Las Vegas, Nevada, on September 15. She was best known as the founder, producer, and warm-up act for the Circle Bar B Dinner Theatre.
Raised in Columbus, Ohio, Janet attended Northwestern University in Evanston, Illinois, where she graduated with a Bachelor of Arts in theater. She performed in Chicago at the Goodman, University, and Shubert theaters before moving to Santa Barbara. She became a popular stage presence here, performing in productions of Funny Girl, Alaska, Sugar Babies, Oklahoma!, and Fiddler on the Roof. She met Ruben Caballero, and they were married on November 16, 1963.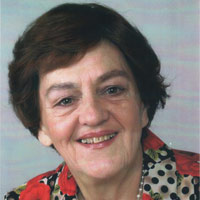 Janet and Ruben, along with friends Virginia and Sam Sabo, started the Circle Bar B Dinner Theatre in the little barn on the grounds of the Circle Bar B Guest Ranch in 1971. With nothing but benches on which to sit and a stage in the center, Janet began the first season with Everybody Loves Opal, with herself in the starring role. Although Janet and Ruben left Circle Bar B to pursue other opportunities, eventually they came back for good, and turned the improvised little theater in the barn into the cozy and intimate 86-seat setting that is still used today.
Together, Janet and Ruben ran the dinner theater until their retirement in 2003. Janet, as the producer, picked the season's shows. Although she loved farces of all kinds, she also took chances frequently, and brought more thoughtful work to Circle Bar B. As for the performing, Janet mostly left that to others: dedicated, wonderful local talent. However, when Janet did take the stage herself, although it was always in a supporting role, she usually brought the house down.
Theater was her first love, but Janet also was an active member of the Santa Barbara Women's Club and held several offices there throughout the years. She donated to many of the nonprofit theaters in the region and was a member of the Santa Barbara Performing Arts League. In her early years as producer, she also held full-time positions at Sambos Corporation and Santa Barbara Research.
Janet not only ran a successful theater business, but also made a home for many Santa Barbara actors. She treated her performers, directors, and crew as family. On holidays, she and Ruben always had a large extended family milling around. Janet will be remembered for her talent, her tenacity, her wit, and that amazing laugh. Her spirit will live on in the actors with whom she worked and the patrons whose lives she touched. Janet is also survived by her husband Ruben, her step-daughter Phyllis Blackwood, her grandson Jesse Blackwood, and her canine "daughter" Tiffany.
A memorial service was held at the Lobero Theatre Courtyard on Monday, October 12, at 4 p.m. In lieu of flowers, a donation fund to DAWG has been set up in her honor; call 681-0561 or visit sbdawg.com. Susie Couch and her husband, David Couch, have been the producers (and warm-up act) for Circle Bar B Dinner Theatre since the founders' retirement.