Arts & Entertainment
Michael Franti & Spearhead at the Arlington
The Band Brought Socially Conscious Rock 'n' Roll to S.B. on Thursday
Last Thursday night, the Arlington turned from movie theater to dance hall as a zealous crowd let loose in the aisles, jumping up and down to the socially conscious rock-reggae-funk of Michael Franti & Spearhead.
After a short set by Jamaican chanteuse Cherine Anderson-an up-and-comer with a killer voice and sparkplug personality-Franti and company bounded onto the stage, all smiles and vivacity. "Can you hear the sound?" Franti asked the already screaming audience before launching into "A Little Bit of Riddim" from their latest album, All Rebel Rockers. In rapid succession, Franti and the band banged out one rousing tune after another before slowing things down a bit with the ethereal acoustic number "East to the West."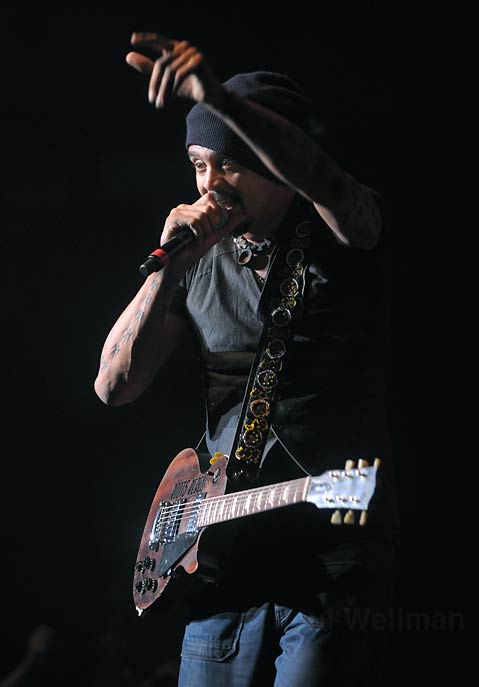 Songs from Rockers and Yell Fire! made up the bulk of the set list, with only one tune each from Everyone Deserves Music (its title track) and Stay Human ("Sometimes"). However, one of the best numbers of the evening was the acoustic ditty "Sound of Sunshine," a new song not found on any album that begins with the lyrics to Porgy and Bess's "Summertime" before settling into an uplifting original about "waiting for the storm to pass."
Franti's Spearhead is comprised of incomparable musicians, allowing the band not only to create dynamic music together, but also churn out some fantastic solos; drummer Manas Itene, bass player Carl Young, and guitarist Dave Shul each took turns wowing the listeners with their prowess. As for Franti, his charisma was intoxicating, and the congregation was enraptured. At 6'6″, the man has an undeniable physical presence, but it is his bonhomie and sincerity that make him so appealing.
The band ended the show with "Say Hey (I Love You)," a delightfully perky "love song about a boy and a girl," as Franti sings, which has skyrocketed onto the Top 40-a first ever for a Spearhead single. For this final number, Anderson rejoined the band onstage-as she had for several other songs throughout the set-along with three little kids from the audience, to sing along, making for a sweet end to an amazing concert.