Theater
Polaris: Top-Notch Physical Theater
Prague-based Adriatic Presents Brings New Play to Lit Moon Festival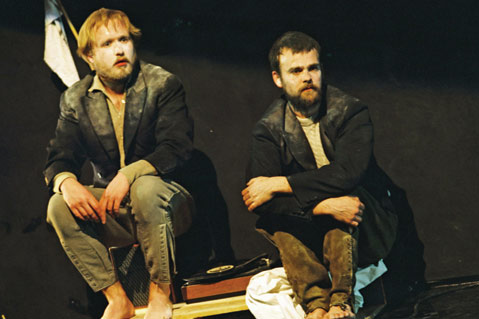 From their first entrance, when Jan Benes-McGadie and Vojta Svejda come onstage straining to pull an invisible sled and letting off small puffs of talcum powder condensation, the tremendous attention to detail and imagination that has gone into Polaris is apparent. A two-man show from the Adriatic Presents theater of Prague, Polaris is a nearly wordless hour-long physical drama that draws the audience into a vivid and seamless dream of polar exploration. The two performers are virtuosi of what dancers call "traveling" – i.e., finding different, distinctive, and significant ways to cross the stage. The powder they shed as stage-vapor eventually coats the floor, the better for Benes-McGadie and Svejda to slide, waddle, skip, slither, and stalk through the "snowy" space. In several scenes simple traveling motifs conjure entire settings, as when the pair side-stepped synchronously to indicate riding together on a train, or when they slide and slither on palms and elbows dragging bent knees behind them and bellowing like sea lions.
In Polaris, it seems as though every aspect of arctic life is touched upon, and often in alternating, complementary perspectives, as when the opening segment involving two human explorers huddling in a shelter is inter-cut with deft shots of the explorer's huskies shivering outside. From a standpoint of sheer technique, this is some of the most impressive acting you will see anywhere. For instance, Benes-McGadie and Svedja move so quickly and quietly during the blackouts that at times it's hard to accept that they could have changed position so drastically in such a short amount of time without anyone noticing. Although the animal sequences are in some ways the most memorable, they are by no means the most significant of the show. Through deft characterization and fascinating lighting and performance techniques designed to mimic other media – such as early film – Polaris embeds its explorers amid a world of poignant reminders of past ambition and archaic notions of fame and glory.
Catch this extraordinary work in its final performance on Friday, October 16 at 7 p.m. at Center Stage Theater (751 Paseo Nuevo). Call 963-0408 or visit centerstagetheater.org for details.