News
Cuba S-! Subpoenas No!
Journalist Ann Louise Bardach Publishes Expose on Castro While Feds Seek Her Testimony
Ann Louise Bardach was getting a haircut at her favorite Carpinteria salon one spring afternoon in 2005 when her husband called on the cell to say Homeland Security was waiting for her at the house. As the Santa Barbara-based journalist recalls, he told her a "couple of nice gentlemen" from the agency had dropped by with a subpoena and "he was going to invite them in."
"Bob said, 'I was thinking of making coffee, and they can wait for you in the house,'" Bardach said. "I let out a scream-'Don't you dare!'"
The federal agents had come to her home seeking tapes and files from Bardach's extensive reporting and interviews with Luis Carriles Posada, an anti-Castro Cuban exile who has a long history of involvement with the CIA, South American intelligence agencies, and deadly violence targeting El Comandante's regime. She avoided the feds that day, but the nationally acclaimed author has spent much of the four years since fending off aggressive efforts by the Justice Department to draw her into a Byzantine tangle of political intrigue, clandestine deception, and legal combat between Posada and the government.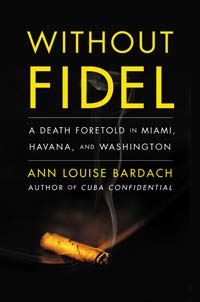 The story of how Posada and his exile confederates conducted a decades-long anti-Castro insurgency is one of three compelling tales Bardach tells in Without Fidel: A Death Foretold in Miami, Havana, and Washington, her latest book on Cuba and its singular leader. Paired with Cuba Confidential, her 2003 portrait of the dictator and the island nation he rules, Without Fidel cements her stature as America's best-informed and most insightful writer about Castro's 50-year reign and the fervid passions, plots, and politics of Washington and South Florida aimed at destroying it.
Amid a national book tour, Bardach is scheduled to speak and sign copies of her latest work this Saturday, October 24, at Tecolote Books in Montecito from 3 to 5 p.m. "It's been just crazy," the hyperkinetic author said in an on-the-road interview from Washington. "There's been an astounding amount of press for a reasonably serious book."
Drawing on documentary evidence and confidential sources developed in nearly two decades on the Cuba beat, Bardach opens the book with the most detailed published account to date of the calamitous illness and near-death experience of Castro, who was stricken in 2006 with severe intestinal bleeding. "From the beginning, newspapers and networks have maintained a standing obituary of Castro," she writes of the media's response to the first muffled reports about his virulent condition. "It seemed only wise. After all, several American presidents had decreed that his elimination was a desirable outcome. Then there were the legions of freelance assassins-embittered, hard-wired exile militants-determined to wreak vengeance on the man who, in their view, had hijacked their country."
But Castro once again confounded his enemies, enduring not only life-threatening sickness but also botched surgery and its excruciating aftermath to demonstrate anew his greatest talent: Survival. "Few men have so zealously pursued longevity as Fidel Castro," Bardach writes. She explains Castro's cultivation of "the image of himself as an icon of endurance : stamina, and discipline," and uses that trait as an entry point into a personal portrait disclosing much new private and biographical information, including a detailed account of his mistresses and offspring. "When I asked Castro in 1993 how many children he had, he demurred, then relented and said, with a wry smile, 'Casi un tribu'-almost a tribe," Bardach reports. "He was not dissembling."
Castro has emerged from convalescence to show that reports of his death were greatly exaggerated. Nonetheless, he ceded some power to his younger brother, Raul, five years Fidel's junior. Raul is the focus of the book's third section, which offers a rich profile of El Relevo-"the reliever" in Cuban baseball idiom-who "dodged the limelight with the same zeal with which his sibling pursued it."
"In contrast to Fidel, an unsentimental man obsessed by politics and ideas, Raul enjoyed a life filled with friends, outside interests, and deep loyalties within [the army] as well as the family," Bardach writes.
"In contrast to Fidel, an unsentimental man obsessed by politics and ideas, Raul enjoyed a life filled with friends, outside interests, and deep loyalties within [the army] as well as the family," Bardach writes. "Raul was the toastmaster at weddings and the negotiator of divorces. He sent the birthday gifts and attended interminable graduation ceremonies. He is sentimental, voluble, and quick to tears."
Bardach's close-in looks at the Castro brothers bookend "The Fidel Obsession," the middle and most intriguing section of her book, which recounts and unravels the conspiratorial history of the anti-Castro exile insurgency, a rich story of secrecy and scheming in which Luis Posada plays a central role. Bardach was part of a New York Times investigative team in 1998, reporting about Miami's Cuban exile community, when she received a surprise call from Posada, inviting her to come interview him in Aruba. A fugitive, he had escaped from prison in Venezuela, where he was to be tried for the 1976 bombing of a Cuban passenger plane that killed all 73 people on board, the hemisphere's deadliest act of airline terrorism until 9/11. During hours of taped interviews, Posada acknowledged involvement in anti-Castro bombings. The tapes led to sensational front-page stories for the Times; they also set the stage for her to become a principal player in a drama she had previously viewed only as a reporter.
In 2005, Posada suddenly turned up in Miami, walking the streets and living openly-until Bardach broke the story of him slipping into the country. Her piece embarrassed the Bush administration, which appeared to have a double standard in adopting a laissez-faire attitude toward terrorists whose deadly acts were aimed at an enemy of the U.S. More shameful still was a second Bardach exclusive, reporting that the FBI had inexplicably destroyed its intelligence dossier on Posada two years before.
After publication of these stories, pursuit of Bardach's Posada investigative files became a near-obsession for Justice Department lawyers, who said they needed the materials for a shifting series of cases. One still current involves perjury charges based on contrasting statements from her interviews with some Posada later made to immigration officials. Since 2005, the government has subpoenaed her four times in legal matters involving Posada, and she is likely to have to testify next year at a trial in Texas.
"It eats up a staggering amount of time and energy," she said of her legal hassles. "I just try to turn it over-to make my case part of the story, and keep reporting on it."
4•1•1
Ann Louise Bardach will sign copies of Without Fidel: A Death Foretold in Miami, Havana, and Washington on Saturday, October 24, from 3-5 p.m. at Tecolote Books in Montecito (1470 E. Valley Rd.).