Dance
The Balanchine Couple at the Granada
Suzanne Farrell Ballet Performs Nine Classic Pas de Deux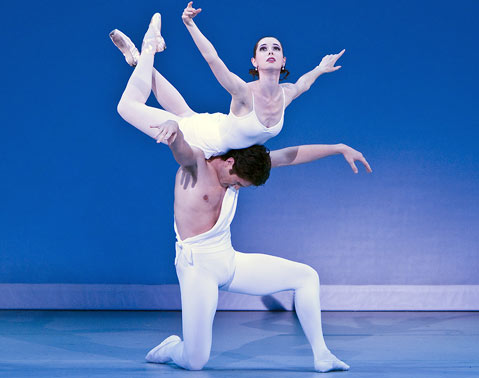 His ballets didn't follow classical conventions, but even as he broke the rules, George Balanchine created a new archetype. Last Wednesday night, Suzanne Farrell, the ballerina who was his greatest muse, brought Balanchine's legacy to Santa Barbara, highlighting nine pas de deux whose real subject is the magnetic field between a man and a woman.
From his earliest surviving ballet, "Apollo" from 1928, to "Chaconne," which he choreographed on Farrell in 1976, Balanchine was obsessed with drawing out that mysterious magnetism. Often, his choreography veered into abstract territory, favoring off-balance lunges and extreme lines over gestural storytelling. When asked what his ballets "meant," Farrell explained, he usually was evasive.
"He would say, 'You don't ask a rose to explain itself,'" said Farrell, who at 64 now heads the effort to preserve and restore his work. Dressed in an elegant black pantsuit and poised as if she might at any moment turn and chasse across the stage, Farrell acted as a guide to the evening-length program, alerting the audience to each dance's narrative context and to the many ways Balanchine created intensity.
With Farrell's help, we saw in "Apollo" the delicate power play in the way Apollo reaches for Terpsichore, and she places her elbows in his hands and proffers her open palms: both an invitation and a retort. Farrell alerted us to the way Balanchine used Rieti's score for "La Sonnambula" to keep the audience on edge as the sleepwalker in question teeters around the stage oblivious to the man who courts her, and pointed out that in "Agon," despite its stark abstraction, Balanchine embraced the traditional pas de deux formula for once, using it to build a sense of competition, even seduction.
Most telling of all were Farrell's comments on "Meditation," the 1963 work that originally was created for her. She spoke of being 18 years old and never having fallen in love, yet being asked to dance this duet that quite clearly is about romantic longing. "I suggested that maybe the choreography should be adapted because I was making it awkward," she recalled. "And Mr. B. said, 'No, it's fine, and besides, love is often awkward.'"
Of course, the real-life love affair that blossomed between Balanchine and Farrell would nearly consume them both, driving her from his company for a time, and compelling the man 41 years her senior to create scores of dances that aimed to embody his feelings for her. Each short piece in the program conveyed that admiration tinged with obsession that defined the choreographer's life as well as his work, and perhaps continues to define hers. "As Mr. B. always used to say," Farrell recalled, "'the minute you place a man and a woman onstage, there's already a story.'"