News
Van Wolfswinkel Exposed
City Elections Drowning in Cash
With the City of Santa Barbara mayoral and council election just five days away, all the campaigns combined have now exceeded the $1 million mark. Leading the charge is Preserve Our Santa Barbara, the political action committee (PAC) created and funded exclusively by Randall Van Wolfswinkel-the billionaire Texas real estate developer who grew up in Santa Barbara.
According to amended campaign finance reports, Preserve Our Santa Barbara just increased its spending by another $60,000. That brings the grand total Van Wolfswinkel has spent on behalf of his slate of candidates and ballot measures to $638,000, setting new campaign-spending records for the City of Santa Barbara. Van Wolfswinkel is backing mayoral candidate Dale Francisco, council candidates Cathie McCammon, Michael Self, and Frank Hotchkiss, and Measure B, the new building heights restriction that would reduce the maximum allowable building height to 40 feet in El Pueblo Viejo and 45 feet elsewhere downtown. The current max is 60 feet throughout downtown. That spending total includes the $60,000 Van Wolfswinkel spent directly – not through his PAC – on his candidates.
Van Wolfswinkel remains very much the elusive mystery man, not responding to repeated requests for interviews by this paper and, more recently, by the Los Angeles Times. Political beneficiaries of his largesse insist the man is a committed preservationist with no ulterior business motives. They claim he is simply seeking to equalize the playing field on behalf of candidates and causes who they insist are badly outspent by the coalition of unions, liberals, and developers who have held undue sway over City Hall.
This analysis, however, fails to acknowledge that at least two of Van Wolfswinkel's candidates – Michael Self and Frank Hotchkiss – were endorsed by the most powerful public employees union in the city: the Police Officers Association (POA). The POA has raised $75,000 on behalf of its slate of candidates: Helene Schneider for mayor; and Self, Hotchkiss, and Dianne Channing for council. Of that, Schneider received $10,000 directly, Hotchkiss $9,000, Self, $4,000, and Channing $5,000. The balance, the union has spent on its own campaigning.
Critics of Van Wolfswinkel's campaign contributions contend he has distorted the political landscape by underwriting candidates who otherwise lack the breadth and depth of community support to wage viable campaigns on their own. In addition, they have objected that the negative personal attacks on candidates launched by Van Wolfswinkel are not in keeping with Santa Barbara's tradition of civil public debate.
Van Wolfswinkel is reportedly now in negotiations to purchase the historic Arco property – located near the Biltmore Hotel – from Ty Warner. Allegedly, the asking price is $20 million. What is known for certain is that Van Wolfswinkel has been actively looking for Montecito property on which he can build a new dream house. For a while, he gave serious consideration to buying Val Verde, one of Montecito's more storied garden estates, but opted not to. Ultimately, that property was secured by Russian billionaire banker Sergey Grishin, who raised more than a few eyebrows when he wrote a $50,000 campaign check on behalf of mayoral candidate Steve Cushman, who is vying with Van Wolfswinkel's candidate Dale Francisco for the hearts and mind of the city's right-of-center voting bloc.
Currently the Arco property is the site of a Craftsman-style structure built in the 1920s. In years past it was leased out as meeting space to numerous nonprofit community groups. It's not clear what Van Wolfswinkel would do with that structure should he successfully buy the property, though he is reportedly pursuing a lot split. The property falls within the jurisdiction of the County of Santa Barbara, however, not the city's. Even if his slate of candidates were elected, they would have no immediate influence on the outcome of any land-use disputes that might arise over development of that property.
In the meantime, the League of Conservation Voters has reported raising $13,000 to counter Van Wolfswinkel's ads with one of their own, entitled "The Texan." It's been broadcast already, showing a tall slender man wearing cowboy boots and cowboy hat, and holding a wad of cash, walking ominously down the corridors of power. While the production value of the commercial is high, its narrative is a bit murky; viewers who don't know about the whole Van Wolfswinkel controversy already might not have a clear sense of it afterward. Donations that made this commercial possible, however, came from MarBorg trash czar Mario Borgatello, $5,000; developer Wayne Siemens, $1,000; billionaire Peter Sperling of Call Wave, $5,000; and Service Employees International Union, $5,000.
Attorneys associated with Van Wolfswinkel's PAC have sent cease-and-desist letters to broadcast companies running "The Texan," complaining that the ad fails to identify the League of Conservation Voters as the sponsoring party for the legally required amount of time. League spokesperson Greg Helms conceded that the ad failed to meet state notice requirements, but by just one second. He said they've since changed the ad to comply.
Mayoral candidate – and Chamber of Commerce president – Steve Cushman has not returned numerous calls for comment regarding a reported dust-up between himself and Daily Sound owner Jeramy Gordon over a column sharply critical of Cushman that appeared in last Thursday's Sound. The column, written by Cheri Rae, blistered Cushman as a thin-skinned, impetuous hothead. It cited an email Cushman wrote several years ago to an author critical of the chamber's management of the Book and Author Festival. In it, Cushman notifies the writer that Cushman will never consider any of the writer's suggestions, and that he should save whatever money he would have spent registering for the festival to "buy happy pills." (Cushman said he popped off at the writer because he'd been critical of a couple of chamber employees; he also said the chamber had taken over management of the floundering festival in order to help keep it going and received only criticism for its efforts.)
Gordon said he received an email from Cushman shortly after Rae's column appeared, telling Gordon he should reconsider his membership on the chamber board. Cushman's email, Gordon said, referenced the Rae column. Gordon offered his resignation from the Chamber of Commerce board at a meeting earlier this week, but chamber board president Steve Amerikaner declined to accept it. Instead, Amerikaner argued that there had been a misunderstanding between Gordon and Cushman, and that Cushman had never wanted Gordon to resign. Gordon said Cushman subsequently told him there had been a "miscommunication." As a result, Gordon withdrew his resignation. Amerikaner has been helping Cushman's campaign.
The incident seems to underscore Rae's attack – that Cushman is thin-skinned and short-fused when it comes to criticism. To date, Cushman has not responded to numerous requests for comment. But in a prior interview, he shrugged off, with a laugh, the suggestion he might have a temper. "The number of times I've blown up in 64 years I can count on one hand," he said. He did concede, however, that the Rae article angered him. "It's just another case of no good deed going unpunished," he said.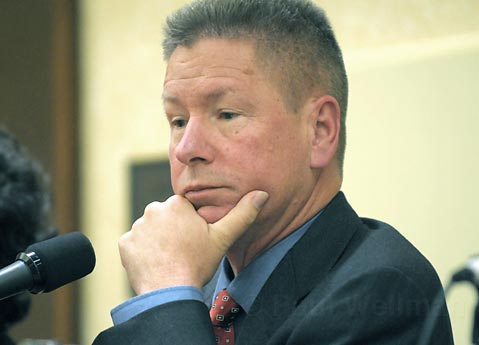 This campaign may have set a record for the number of campaign forums; this Thursday night, mayoral and council candidates met for the last time to discuss issues and answer questions at forum hosted by a Santa Barbara City College political science class. In it, a student reportedly challenged mayoral candidate Dale Francisco about his support for Prop. 8, the controversial statewide anti-gay-marriage ballot initiative that passed last year. Francisco donated $200 to the pro-Prop. 8 cause, prompting the student to question whether Francisco supported civil rights. Francisco reportedly responded by terming those seeking to make political hay out of his support for Prop. 8 "neo-McCarthyites," referring to the late Wisconsin senator Joe McCarthy, who led some of the most notorious anti-communist crusades of the 1950s. Gay rights supporters have made a point of identifying and exposing Prop. 8 supporters and in some cases have cost individuals their jobs. Francisco has declined to discuss his support for Prop. 8, arguing it falls far outside the scope of city issues. His chief mayoral rivals – Steve Cushman and Helene Schneider – have sought to raise the issue, arguing it shows how conservative Francisco is. They claim he's out of step with most Santa Barbara voters on this issue. However, in 2000, Francisco, then living in San Jose, donated $300 to Lois Capps, and $500 to the Democratic National Committee, according to an Internet service, News Meat, that tracks campaign contributions.
As of October 29, a total of 13,195 of the city's 46,000 registered voters had either mailed in their ballots or dropped them off at City Hall. This is the city's first-ever mail-only election, and there's been considerable apprehension by many political camps that voter turnout would be lower than usual. In 2007, a total of 16,363 votes were cast, or 37 percent; 11,000 by absentee voters who mailed their ballots in.
Anyone who hasn't voted yet should drop their ballots off in person at City Hall or one of six other drop-off centers in person. Any ballots received after 8 p.m. Tuesday (November 3) will not be counted, no matter when they were dropped in the mail. For this reason, city election workers have cautioned prospective voters not to use the mail after Friday, October 30.
If you have any questions about the mail-in ballot, call 564-5309.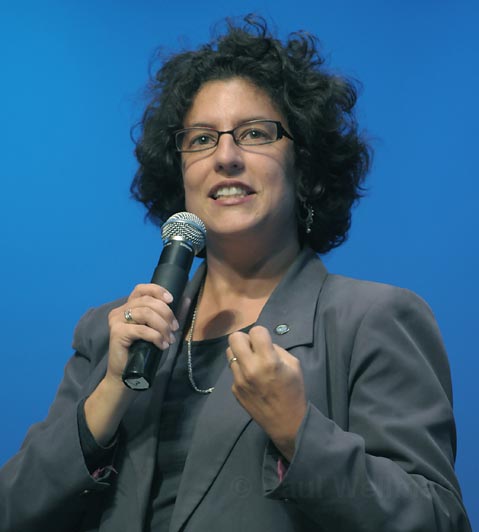 Typically, the left-wing is best known for intramural political food fights among themselves. And certainly there's been some evidence of that during this year's City Council races. Democratic Party chair Daraka Larimore-Hall has been vocal in his criticism of Jeremy Lindaman, the campaign guru running the election efforts for Helene Schneider, Grant House, Harwood "Bendy" White, and Dianne Channing – the slate endorsed by the Democratic Party. Larimore-Hall has expressed concern that Lindaman has been too politically cautious – shying away from controversial issues – to galvanize many nontraditional voters to the polls. (The Democratic Party has opposed Measure B on "social justice" grounds, for example, arguing it will inhibit the community's ability to provide affordable housing. But mayoral candidate Helene Schneider – Lindaman's candidate – is taking no position on Measure B, although she has spoken critically of it in the past. Lindaman is convinced that Measure B enjoys overwhelming support especially among the older and more conservative-minded, if Democratic high-propensity, voters, and that it would be political suicide to oppose it.) In addition, Larimore-Hall has been publicly critical of some of the television ads produced and paid for by the Democrat slate.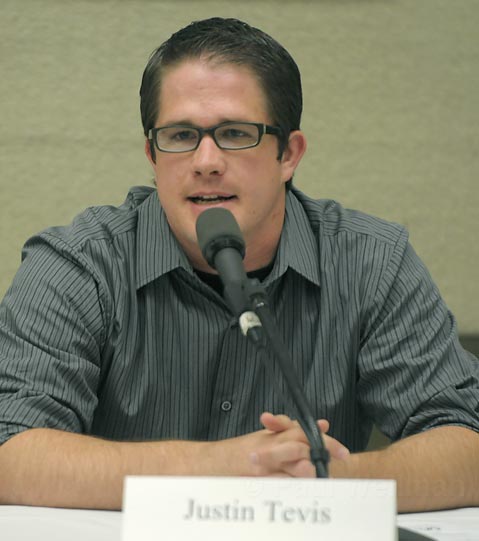 But that's nothing compared to the go-for-the-throat warfare that's simmering below the surface in the city's more conservative quarters. Relations between Santa Barbara Tea Party members, outspoken in their denunciation of health insurance reform, and council candidate Justin Tevis – who is also against reform and is the most outspoken, libertarian candidate in the race – are sour enough to curdle milk from 50 paces. Tea Party activists took pains to distance themselves from the anti-health insurance reform rally held in front of Congressmember Lois Capps's office two months ago, where Tevis demonstrated an astonishing ferocity and lung-power while trashing the reform effort, Capps, and the large number of health-care reform supporters who showed up as well. Earlier that day, Tea Party activists sent out multiple press releases announcing they had nothing to do with the rally, dismissing it as a contingent of angry conservative women bused in from Solvang. Tea Party activists, like Heather Bryden, explained at the time that they preferred to speak in a conversational style with Capps – with whom they ardently disagreed – and that they found shouting distasteful and counterproductive.
Tevis grew up in the Santa Ynez Valley and many of his campaign donors live in Solvang. He countered that local Tea Party activists had sought to sabotage the rally by sending out press notices that it had been cancelled. Bryden – who is working on behalf of council candidate Michael Self – denied that ever occurred. More recently, Tevis got sideways with conservative comedian – and radio talk show host and Montecito resident – Dennis Miller. Tevis had his photograph taken with Miller in Solvang three weeks ago at a political event. He later called Miller on his radio show to announce that he was using the photograph as a campaign endorsement. Miller – who has not endorsed Tevis or any candidate in the race – took exception to this idea and said so forcefully. Tevis has since said he was only joking and that Miller took it wrong.
Perhaps Santa Barbara's single most powerful cabal – the board of Cottage Hospital – has come out against Measure B, mailing letters to every registered voter in the city that if Measure B were in place, Cottage Hospital's seismic improvements – now underway – could never have been approved. Furthermore, the letter states that if Cottage were to be demolished by an earthquake or any other natural disaster, it could not be rebuilt at its currently approved height because of Measure B. Significant portions of the Cottage remodel call for three-story towers 60-feet high. Under Measure B, nothing bigger than 45 feet could be approved. Technically, the letter was signed by previous members of the Cottage board, not current members.
Measure B proponents have countered that the opposition campaign is based on lies and hysteria. Last week, they held a press conference – attended by Mayor Marty Blum, mayoral candidate Dale Francisco, and council candidates Michael Self and Dianne Channing – to dispute this. They vowed to pass an ordinance early next year that would address any potential problems for Cottage, should Measure B pass and the hospital be demolished. Under existing city law, legal nonconforming structures – like the Granada building which exceeds the city's current 60-foot height maximum – can be rebuilt to the existing height if 75 percent or less of the building's value is lost. If more than that is lost, the building must be reconstructed according to the existing height limit. Blum, Francisco, Channing, and Self all pledged support to an ordinance change that would change the rebuild rule so that no matter how much of the building's value were lost, it could be rebuilt.
Critics of Measure B have questioned whether such an ordinance would, in fact, be legal. Because Measure B amends the city's charter – the municipal equivalent of a constitution – its provisions would trump those of a simple ordinance change. Only by amending the charter, they claim, could such a change be legally effected.