News
Reflecting on Electing
Comments and Color from 2009's Election Night Parties
Though the results are only semi-official and as many as 4,000 ballots are expected to be counted tonight, the celebrations are already in full swing in downtown Santa Barbara. As it stands, Helene Schneider will be the next mayor; Grant House, Harwood "Bendy" White, Michael Self, and Frank Hotchkiss will take their seats on the City Council; and the building height initiative Measure B failed, although the less controversial Measures C, D, and E will likely pass. Here are some of the party highlights, which will be updated as more reports come in.
At Dargan's, where a number of Democrats are hanging out, the party is bumping with the pool hall area packed to the brim, according to reporter Chris Meagher, who spotted Helene Schneider and perhaps council candidate Dianne Channing. Meagher came upon Bendy White while he was hugging his mother-in-law and sporting his "I Voted" sticker.
"The voters really connected with the priorities that many of us had talked about – balancing the budget being the top one," said White, who's currently sitting pretty in second place for the four council seats. "I have many years of experience in city government and I know how to maintain staff morale : My years on the Planning Commission have taught me how to work with colleagues, staff, and the public." White also spoke of working collaboratively with the rest of the City Council. "All I can do is what the whole does," he said. "It is not 'my' agenda, it's 'our' agenda."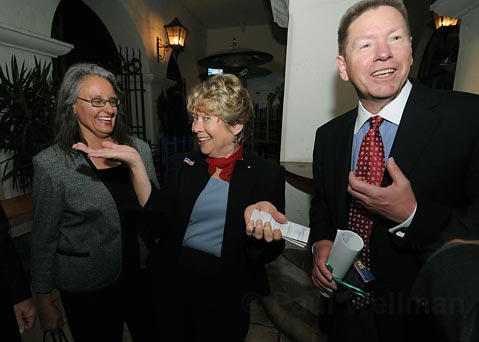 Meagher then went to Joe's Cafe, where mayoral candidate Dale Francisco was supposed to be hanging out. But, he reports, "Joe's is dead. No election party, that's for sure." Meagher did see Nick Welsh interviewing Francisco across the street, so stay tuned for some comments from the runner-up soon.
UPDATE, 10:40 p.m.: Chris Meagher called in to say that Grant House just arrived to a hero's welcome at the Paradise Cafe on Anacapa Street, where there's a strong gathering of such "No on Measure B" advocates as Mickey Flacks, Alex Pujo, and members of PUEBLO. Meagher reports that House was draped in a red tablecloth while everyone cheered with "synchronized clapping and all." Meagher spoke with No on Measure B consultant Brian Robinson, who said, "It looks like we won."
UPDATE, 11 p.m.: Back at Dargan's, Meagher called in with a report on the speeches now underway. After thanking her campaign staffers, her broad base of support, PUEBLO, and her mom, mayor-to-be Helene Schneider said, "Tonight we celebrate. Tomorrow we figure out the next major things."
Grant House, who won a return to his seat on the City Council, also spoke. "Santa Barbara cannot be bought," he said. "We're going to keep our environmental consciousness. We're going to make sure in the next four years that no one is left out. Everyone in Santa Barbara is included."
Said Bendy White, who's currently the second top vote-getter in the race for City Council, "I'm so honored to be part of this next council."
At the end of the speeches, "We Are the Champions" was playing "quite loudly," according to Meagher and, according to a bartender contacted by reporter Ethan Stewart, the heavily Democrat crowd was "tipping quite well."
Also according to Stewart, Schneider's mom, who flew in from New York, was watching her daughter on live television and gushed, "That's my kid. She's so photogenic. She's got that Hillary Clinton look."
UPDATE, 12:15 a.m.: Although updates to the election results were expected sometime around 11 p.m., the City of Santa Barbara has not yet published new numbers, so the "semi-official results" remain as reported at 8:45 p.m.: Helene Schneider as mayor; Grant House, Bendy White, Michael Self, and Frank Hotchkiss as city councilmembers; and Measure B goes down, though less controversial Measures C, D, and E pass.
Meanwhile, back on the party circuit, Nick Welsh just downloaded a ton of reporting from the evening. Focusing on the influence that the big Randy Van Wolfswinkel bucks and his Preserve Our Santa Barbara ad campaign had on the voters, political consultant Mary Rose explained, "In the end the money backfired. They went a little too far with the negative campaigning – they went a lot too far."
Belen Seara of activist group PUEBLO explained that her organization had about 90 people walking precincts and knocking on doors last weekend, targeting about 3,000 voters on behalf of Helene Schneider and Grant House while also spreading an emphatically anti-Measure B message. Specifically, Seara said they focused on infrequent voters, those who vote on occasion, but not religiously. In addition, she said PUEBLO worked to bring out young, Latino voters, people of color, and those who live downtown or in Westside and Eastside precincts. The challenge, she said, was transportation. The drop-off center on the Eastside was Cleveland School, sufficiently far enough from many Eastside voters to be daunting. As a result, City College became more a focal point for many of those voters. Likewise, many of the Westside voters PUEBLO targeted found the Holy Cross Church on the Mesa a distant drop-off point. Seara noted that the letter City Hall sent out to many voters notifying them of signature problems was written only in English, and that many of the voters spoke only Spanish.
Of the big money and negative campaigning, incumbent, top council vote-getter, and recipient of plenty of attack ads Grant House explained, "This is a repudiation of that kind of campaigning : Santa Barbarans show they know how to disagree civilly. That's what I take away from this."
House was one of the few council candidates to actively campaign against Measure B. On that initiative, which appears to have failed, "I don't think it was so much 'the' issue that people said it was," said House. "There are so many more pressing issues, important issues, like what's going to happen with our young people."
Welsh stopped mayoral candidate and city councilmember Dale Francisco for an interview on a corner of State Street. "Helene ran a traditional partisan campaign," said Francisco. "A lot of people vote the party line. There's a very well-established political machine in this town. Even though I entered the race three months late, I showed you I could come close to beating that machine. A lot of people are concerned about the same things I am. Now we're going to have two new councilmembers who have those beliefs : It's clear there's been a political sea change in this town."
Francisco stressed he didn't take a cent from Van Wolfswinkel and said that the Santa Barbara-born developer who lives in Texas did not run a very effective campaign.
As to Measure B, which Francisco supported, the mayoral candidate explained that the No on B crowd "ran a very effective campaign, a very deceptive campaign. The whole idea that Cottage couldn't be rebuilt is just silly."
"Within three months I came close to becoming mayor," said Francisco, who now wants to focus on fixing the fiscal mess and increasing the number of cops. "I have two people I supported who share my beliefs. It's going to be a whole new council."
One of those people is Frank Hotchkiss, who's currently fourth in the results. He spent his night at Left at Albuquerque, where he delivered a victory speech. "This is just the beginning," said Hotchkiss. "I think the country is turning the corner."
Michael Self, currently the third placer finisher in the council race, was also at the Mexican restaurant on State Street. She explained, "There has been such a machine in Santa Barbara. It's nice to see that now the citizens have a voice on the council, not just ideologues." Although now presumably a soon-to-be-member of the City Council, Self kept her anti-City Hall campaign rhetoric alive, explaining, "We're tired of being treated like third graders and told to go sit down."
As to Measure B, Self said, "Well, they lied. I consider it a dishonorable win." Jim Westby, who masterminded the conservative slate of Self, Hotchkiss, and Cathie McCammon as well as the Yes on B campaign, agreed that the Cottage Hospital ads were quite effective in fighting the initiative.
Back on the left-leaning victory lap at Dargan's, the new mayor Helene Schneider stood on a chair and proclaimed to much applause, "$700,000 worth of negative campaigning didn't work in Santa Barbara." She continued, "It looks like the council will be very different, which is fine. I hope we can find common ground."