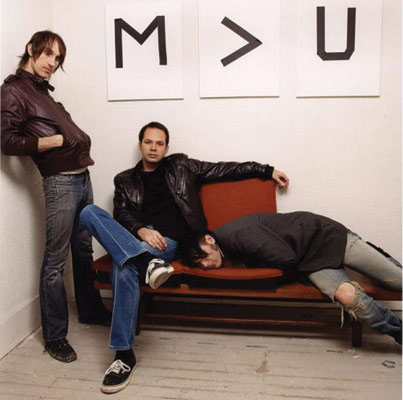 COMPUTER LOVE SONG: Calling all club kids: looks like it's your lucky week. Starting today, Santa Barbara County plays host to a whole slew of wild, crazy, and sonically spectacular artists who like to dabble in the technological. Starting things off, L.A. electroclashers Moving Units head to SOhO (1221 State St.) this Thursday, November 5, for an extra special all-ages show. It's been more than two years since the band released their synth-driven sophomore effort, Hexes for Exes, but that certainly doesn't mean they've been laying low in the interim. In fact, the Units' lead singer/songwriter Blake Miller has in recent years become one of the most sought-after deejays and producers in the Los Angeles club scene, making sweet, sweet music with everyone from Steve Aoki to The Bloody Beetroots. The band's S.B. show is one of a very limited number of dates the band have booked, and Miller promises the concert will include sneak peeks of some brand-new tracks. Expect high-energy, sweat-inducing dance-offs and a whole lot of manipulated beats. For tickets, call 962-7776 or visit clubmercy.com.
Up the 101 a ways, Isla Vista's Biko Garage Co-op (6612 Sueno Rd., I.V.) dishes out a stellar night of electronic experimentation this Friday, November 6, with L.A.'s Lucky Dragons and Brooklyn's Javelin. These two outfits undoubtedly are on the forefront of the dance music world, crafting beats, samples, and sonic overlays reminiscent of bigger names like Crystal Castles and Girl Talk, respectively. Where Dragons' tunes move in a more ambient direction, the Javelin fellas are all about the hip-hop backbeats and pop-minded hooks. Looking for a little sonic proof before you make the trek to I.V.? Take a listen to Javelin's oh-so-grooveable two-minute jam "Vibrationz." I guarantee you'll be hooked before you hit the second half. For show info, visit sbdiy.org.
PROBLEM CHILD: This week also marks the much-buzzed-about Santa Barbara return of party boy Mickey Avalon, who will be playing Velvet Jones (423 State St.) this Sunday, November 8, with opener/sometime-bandmate Beardo. For those of you who weren't privy to Avalon's early-evening rap-along at the Santa Barbara Bowl earlier this year-and the post-show sucker punch he delivered to one of the venue's security guards-this weekend's concert is not worth missing, if only for the onstage spectacle factor. Known as much for his hard-partying ways as he is for his rhymes, the pint-sized performer brings with him a big-time attitude (and a whole lotta samples), meaning you can expect lots of crowd interaction and plenty of "did he really just say that?" moments. For tickets and info, call 965-8676 or visit ticketweb.com.
IT'S ALL ABOUT THE POSITIVITY: SOhO is perpetuating the good vibes throughout this week with two nights of inspiring, enlightening, and dance-worthy tunes. On Saturday, November 7, longtime Santa Barbara groovers The Messengers bring their eclectic blend of reggae, rock, and jam music to the State Street venue for a night of high-energy music with a socio-political message. In fact, chances are you've caught this seven-piece rocking out at one of the many festivals and nonprof events (for the Environmental Defense Center, Surfrider Foundation, Sierra Club, People's March for Economic Justice) to which they've lent their talents in recent years.
Later in the week, Club Mercy presents Jamaican powerhouse Warrior King with opener Gyptian. A cross between radio-friendly voices like Akon and dancehall giants like Bounty Killer and Sly and Robbie, Warrior King pens songs filled with swaying arrangements and gorgeous harmonies, but it's his lyrical content that deserves the most praise. "[I'm about] fighting against oppression, fighting against wrong," Warrior King explains on his Web site. "I'm Jah warrior, you know, fighting a war of rootical love." Lucky for fans, this war is being fought with infectious melodies and soothing hooks. For tickets and info for both shows, call 962-7776 or visit sohosb.com.