Angry Poodle
Before I Be Your Dog :
Angry Poodle Barbecue
PHYSICIANS HEAL THYSELVES: The seismic shifts not-so-quietly rocking Santa Barbara's medical world have got me jumpier than six shots of triple espresso. For the first time in its 89 years, Sansum Medical Foundation just eliminated 30 positions. Translated into actual human beings, that's 20 people who no longer have a job. Only a few of these, I am told, do actual clinical work. No doctors got the boot. Given that Sansum is the second biggest gorilla in Santa Barbara's health-care zoo, this ranks as big news. Given that Sansum happens to be where my family goes in times of medical duress, it's of immediate concern. Costs are up; revenues down; something had to give. That the layoffs were announced at roughly the same time Sansum unveiled its brand-new remodeled wide-planked hardwood-floored central waiting room is a case of cruel timing. Turns out, I am told, that a wealthy benefactress decided the waiting room was in desperate need of a face-lift and shelled out $65g for that-and only that-purpose. At the risk of looking a gift horse in the mouth, that money could have been better spent stocking waiting rooms with magazines from the 21st century. Maybe if I had a medical marijuana card, I could take some of the edge off by venturing down the herbal path. If I thought it would help, I would. But the last pot I tried was so strong I just curled up like an armadillo with rigor mortis and waited for the fun to be over.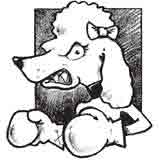 I mention Sansum and medical marijuana in the same breath because that's exactly where they belong. But in the real world, no such logical exactitude exists. Since 1996, state law has recognized the legality of medical pot. But federal law still regards it as a crime. As a result, clinics and pharmacies-the most logical places to dispense medical marijuana- cannot distribute the substance without running legally afoul of federal regulators. Instead, we have a number of storefront dispensaries, whose operators range from slime buckets to saints. Based on a few bad apples-coupled with free floating hysteria, complicated logistical issues, and more than a little hypocrisy-medical marijuana has emerged as the hottest issue now confronting City Hall. Santa Barbara city councilmembers have spent more hours wrestling with the dispensary regulation in the past few months than all other issues-excepting the budget-combined. This Tuesday night, the council chamber was the site of a four-hour barn-burner on the matter, with 40-plus impassioned people testifying pro and con whether City Hall should impose an immediate moratorium on even thinking about allowing another dispensary. I tend to regard the moratorium as a gratuitous exercise in political foot-stompage. City Hall is right on the verge of enacting a tough new ordinance that would allow no more than seven dispensaries to be spread evenly throughout the city. (Currently there are eight dispensaries, not the 22 reported elsewhere, five of which are legal. City Hall is cracking down on the other three.) A moratorium would have the unintended effect of leaving some of the older dispensaries-that don't meet the new rules-unmolested, while preventing better operations that would meet the new regulations from even opening shop. To steal a line from Councilmember Das Williams, that's just dysfunctional.
But I'm also sure the hope is that by removing the profit motive, the number of storefront dispensaries will disappear, thus ridding Santa Barbara of unscrupulous greed-head stoners who want nothing but to further corrupt Santa Barbara's already corrupted youth.
The other new wrinkle is the council's sudden insistence that all dispensaries be nonprofits and collectives. Talk about your creeping socialism! Who's looking out for free enterprise these days? Can you imagine the backlash if similar impositions were attempted on the pharmaceutical industry? And where are the screamers and bellowers from the Tea Party movement when you really need them? I find perverse irony in the fact that Councilmember Dale Francisco-the most conservative and ardent free-marketeer on the council-is leading the push for mandatory collectivism. To be fair, Francisco is responding, at least in part, to new edicts recently issued on the subject by Attorney General Jerry Brown. But I'm also sure the hope is that by removing the profit motive, the number of storefront dispensaries will disappear, thus ridding Santa Barbara of unscrupulous greed-head stoners who want nothing but to further corrupt Santa Barbara's already corrupted youth. How could anyone be against nonprofit collectives? That's like being against "sustainability." But as a practical matter, collectives can sprout up anywhere-even in residential neighborhoods-and are not as subject to city regulation as storefront dispensaries. More critically, how many people undergoing the agonies of chemotherapy will be able to navigate the legal and practical intricacies of establishing a state-recognized collective to get their medicinal pot when they need it most? When you're in serious pain, a storefront dispensary-safe, clean, and rigorously regulated-is exactly what the doctor ordered. While we're at it, should we be forced to establish nonprofit collectives to cultivate synthetic opiates in backyard labs to get Vicodin, one of the more popularly abused drugs on the market?
Of course not. Unlike pot, Vicodin-one of the great constipators of the 21st century-is perfectly legal. In a rational world, these two drugs-however extensively abused-should be made available within the same safe and sanctioned medical spaces. And if Sansum could dispense medical marijuana, maybe some of its cash-flow problems would be alleviated. It certainly couldn't hurt. In the meantime, the Santa Barbara City Council-which doesn't have a single medical professional on it-will be making key decisions that will affect our medical choices in the years to come. No wonder I find myself balled up like an armadillo with stomach cramps. The good news is that I don't even have to smoke pot to get that way. Now I get there naturally.