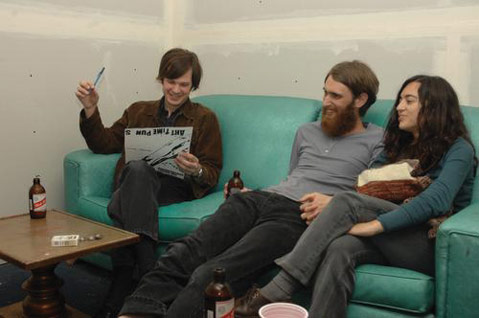 WEEKEND WARRIORS: Something was definitely in the air this past weekend, as up-and-comers of all walks decked the halls-and nearly busted down the walls-of some of Santa Barbara's most intimate venues. Up north, Isla Vista's Pink Mailbox (6668 Pasado Rd.) hosted an extra special, extra small show for Florida noisemakers Surfer Blood -along with Ketchup and Seth Pettersen & the Undertow -on Saturday night that wowed more than its fair share of young revelers. Meanwhile, not that far away, the crowd at Goleta's beloved Mercury Lounge (5871 Hollister Ave.) got a healthy dose of good reggae, courtesy The Aggrolites. Among a sizable crowd, the L.A. fourpiece provided a skank-worthy set of upbeat, rockabilly-infused tunes that far surpassed their "dirty reggae" mantra.
On the flipside of town, Muddy Waters (508 E. Haley St.) proved itself a veritable mosh pit for not one, but two days this weekend. On Friday, the indie rock double-header of the Growlers and Mt. St. Helens Vietnam Band brought out a smattering of fans and familiar faces that quite literally brimmed Muddy's tiny venue space. But even that crowd was no match for the sold-out chaos of Sunday's Girls show. Flanked by openers Dominant Legs and The Morning Benders, these rising stars dished out a good amount of old and unreleased material. Despite frontloading their set with blogged-about hits like "Lust for Life" and "Hellhole Ratrace," the quartet kept the room rapt with their swirling guitars and frontman Christopher Owens's warbled deliveries. All in all, a fabulous, if exceptionally cramped, night of music to keep us warm and toasty throughout this week's winter chill.
BUZZ-WORTHY: With a reputation as stellar as Beehouse Records', it's easy to understand why Central Coast bands flock to get in good with their tight-knit musical family. This Friday, December 11, the Beehouse gang lets in a few special friends for a night of music- and merry-making in honor of the holiday season. Along with compadres Gardens and Villa, Deep Magic, and Justin Dullum, Beehouse's beloved parent band, The Spires, will play. Headlining the festivities will be instrumental supergroup Sea Stones, featuring members from The Spires, along with Tall Tales and the Silver Lining and Franklin for Short. The party kicks off at 8 p.m. at Muddy Waters Cafe. Call or visit myspace.com/muddycafesb for details.
MOZ-EL TOV: For Morrissey fans, Christmas comes just a little early this year, as the former Smiths singer embarks on a series of West Coast tour dates throughout the month of December. The cause: Moz's latest collection of b-sides and rarities, Swords. But whether or not you've picked up the disk, I'm highly encouraging you to check out the show, which swings through our neck of the woods this Friday, December 11, at the Majestic Ventura Theater (26 S. Chestnut St., Ventura). In addition to Moz's unarguably prolific catalogue, we're betting this show will be an excellent gig to catch simply because of its size (the night prior, he's headlining L.A.'s Gibson Amphitheatre) and general admission setup. Tickets are $89.50. Call 653-0721 or visit venturatheater.net for info.
THE FRESHMEN: A bit closer to home, Santa Barbara's own Loomis & the Lust picked up a coveted spot on mtvU this past week, thanks to their stellar video for the single "Bright Red Chords." The band scored big through the channel's weekly Freshmen Video Contest, which, this time around, paired up "Chords" against videos from such fast-emerging artists as Fake Problems and Phenomenal Handclap Band. The vid got its big mtvU debut this past Monday, but will continue to play throughout the year. Congrats, guys!