News
Financial Elder Abuse Arrest
D'Sant Angelo in Custody for New Case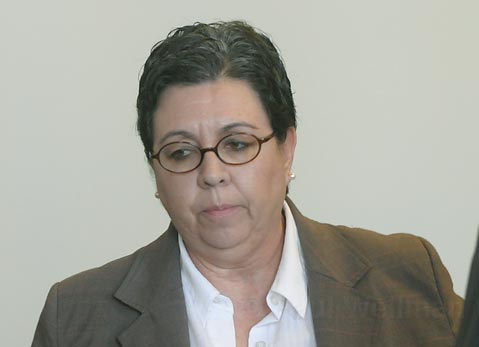 In Custody: Denise d'Sant Angelo, already facing trial on charges of allegedly embezzling donations intended for three nuns, was arrested Wednesday night, December 30, on suspicion of financial elder abuse.
D'Sant Angelo, who remained in custody Thursday in lieu of $70,000 bail, will be arraigned Monday on felony charges that she stole money from two unidentified Santa Barbara seniors. Deputy District Attorney Brian Cota confirmed reports of the arrest. The nuns are not the victims in this new case.
Details of the abuse case and the victim's name were not available Thursday. Sources also said that d'Sant Angelo is also wanted on a Ventura County bench warrant for failing to appear at a civil hearing.
D'Sant Angelo had been free on bail pending a February 1 trial in Santa Barbara Superior Court on felony charges that she stole $2,800 in donations intended to assist three Sisters of Bethany, after they had to leave longtime convent next to Our Lady of Guadalupe on Santa Barbara's Eastside in 2007.
She is accused of taking over the informal Save Our Sisters group and receiving checks from donors, but cashing them through her personal bank account and keeping the money, according to the DA's office.
In 2007, with little notice, the Los Angeles Archdiocese ordered the nuns to leave the convent so it could be sold to help pay settlements for victims of priest abuse. After the nuns, Sister Angela, Sister Margarita, and Sister Consuelo, left Santa Barbara, the convent was razed to make way for expansion of Our Lady of Guadalupe.
The parish paid the Archdiocese an undisclosed amount of money. Whether it was the full market value of the property is not known.
Update: Santa Barbara police issued the following press release Thursday afternoon: "Denise D'Sant Angelo was arrested by Los Angeles Police Department in Woodland Hills on a $70,000 felony arrest warrant obtained by the Santa Barbara Police Department for charges including financial elder abuse and grand theft against two victims.
"The Santa Barbara Police Department has an open investigation regarding Denise D'Sant Angelo and has reason to believe there may be additional victims." Police asked, "if you have had any suspicious business transactions with Denise D'Sant Angelo to call the Santa Barbara Police Department at (805) 897-2335."
Barney Brantingham can be reached at barney@independent.com or (805) 965-5205, Ext. 230. He writes online columns and a print column on Thursdays.