Columns
Doing It Differently with the Same Gear
How KCSB Wields Technology to Resurrect Creativity in Broadcasting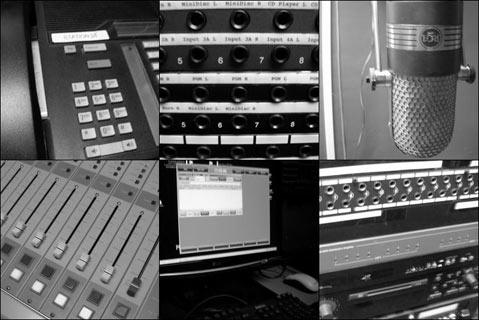 There's a lot of technology at KCSB. This perhaps comes as no surprise from an operation that pumps out sonic entertainment and information, the vast majority of it live, 24 hours a day, seven days a week, 365 days a year.
But visitors to the studio are often surprised by just how much electronic gear is around and available for programmers to craft and disseminate their shows. Knobs, processors, microphones, computers: It's all there, and, on close inspection, most of it bears a family resemblance to the very same pieces of consumer technology we all use at home.
The same doesn't quite go for the office of KCSB chief engineer Bryan Brown, whose large office positively teems with components and gadgetry esoteric to those who don't make radio stations work professionally. I paid him a visit in the process of researching a column on the technology of KCSB, but Brown insisted that the interesting part isn't what technology KCSB possesses; it's how KCSB employs that technology. Without a particularly lavish setup, KCSB has performed feats of broadcasting generally perceived as requiring advanced equipment.
The station's live transmissions of the Dalai Lama's April 2009 UCSB lectures, for instance, were pulled off with little more than a laptop, an inexpensive mixer, and an Internet connection. Smart use of the Internet has enabled KCSB to perform beyond its ostensible means in other ways as well, taking full advantage of the infrastructure offered by its university location. The free voice over internet protocol (VOIP) application Skype, for instance, allows No Alibis producer Elizabeth Robinson to near-seamlessly co-host with her associate in Paris. And with the aid of a lowly $800 desktop computer, KCSB streams live around the clock to the entire world.
"Radio, in general, is not an expensive medium," said Brown. "What you need to transmit radio nowadays, you probably have in your house! Whereas radio station technology, KCSB's included, used to be quite complicated and unintuitive to the outsider, it's now almost the same audio and computer equipment to which new programmers will have already grown accustomed. "It used to be so in-your-face," Brown remembered, "with all that tape-splicing, carts, and vinyl. Now the goal is to make the technology practically invisible."
This is especially important at a place like KCSB, where 30 to 120 unique, new, radio hopefuls walk through the door every quarter. "They all get to touch this gear," Brown explained. "They learn how to turn a few knobs, slide a few sliders, and they're up and creating content. Very few stations allow people to 'push the buttons' like we do." This jibes with my own early KCSB memories: I went from never having touched a mixing console in my life to producing actual radio in a matter of days.
KCSB's freeform nature combines with its ever-increasing ease of use to create an unparalleled forum for on-air creativity; save a few FCC obscenity regulations and the station's own bylaws against commercialism, programmers can do whatever they want. KCSB's challenge, then, is to remove the straitjacket of preconceptions about what radio should be. "Radio has traditionally been defined in a certain format: You play music, you talk, you play music, you talk," said Brown, "and how do you break out of that? Most radio has become so bland and homogenous since the end of the heyday of freeform DJs in the 60s and 70s."
Brown remembers a host of fascinating radio experiments in KCSB's past: "When I first came here, we had a guy who collaborated his friends in all three of our studios at once, and they'd all mix music simultaneously." But there's been less of that of late. When I asked him if fostering more on-air creativity might be a primarily technological challenge, he said it essentially is. "The technology is in place; it's getting people to think differently about the technology that's the issue. The lack of sufficient technology used to be a stranglehold, but it's not the problem anymore."
I've long believed that, as less and less money remains to be made in commercial radio and less and less effort is thus put into it, noncommercial stations such as KCSB will draw more interest from curious listeners put off by the lack of engaging material elsewhere on the dial. I asked Brown if he thought this belief is reasonable, and he seemed to think it is. "We don't fall victim to the same corporate mentality," Brown said. "It doesn't matter if the music doesn't make money, since we don't rely on it to make money. We're an aberration; we go against everything the corporate stations say you should be, and we're even more accountable than they are. The students of UCSB vote on our funding every two years. If they want to pull it, they can pull it."
But for nearly five decades that funding has remained intact, and the radio laboratory that is KCSB continues to grow more flexible and more technologically accessible with each passing year, to any aspiring broadcaster possessed of a less-than-conventional vision of what radio can be. "I used to do a show where me and three friends brought in our laptops, plugged them into the board, and made improvised noise music," Brown, who is also a composer of electronic music, told me. "We got a bunch of calls. The best came from a guy who said, 'I may not like what I'm hearing, but I like that you're doing it.'"