News
Destroy to Build
New Mayor Swings a Mean Sledgehammer in Affordable Housing Ceremony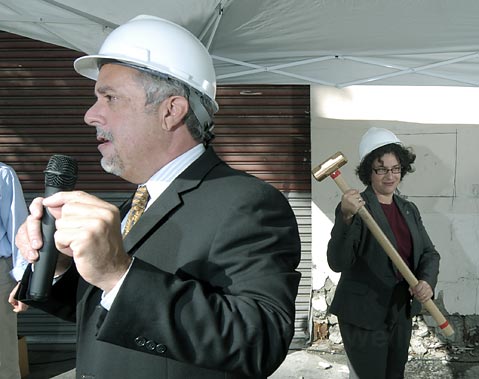 Just one day after Santa Barbara's new mayor Helene Schneider was bequeathed City Hall's ceremonial gavel, she hoisted an equally ceremonial gold-painted sledgehammer and pounded away at the building that for 50 years had been home to Haagen Printing at 420 East Cota Street. It was a twist on the traditional groundbreaking or ribbon-cutting that's part of any mayor's job description. Haagen's — a fixture in the Santa Barbara business community — has recently moved to new digs; its old home of 50 years will soon be leveled. In its place, the Santa Barbara Housing Authority — on whose board Schneider once sat — will build a new three-story, 55-unit affordable housing project dubbed Artisan Court. This will provide 450-square-foot studio apartments to low-income downtown workers, homeless individuals, and recently "emancipated" grown-up foster kids at loose ends.
"It's really cool that this is my first ceremonial act as mayor," Schneider said. During her six years on the City Council, Schneider had worked consistently on behalf of homeless support programs designed to keep vulnerable people off the streets. Few, it seems, are quite as vulnerable as recently emancipated foster kids. According to a recent Grand Jury report, no less than 32 percent of Santa Barbara County foster kids find themselves homeless within six months of turning 18, the time at which they are deemed legally emancipated. Aside from La Mirada, a 10-bed facility located near the County Jail, there are no facilities in all of Santa Barbara County to serve this population. Along with supportive life skills services provided by the YMCA Youth Family Services, Schneider said the new facility would help fill a gaping hole in the South Coast's safety net. Of the 55 new studio apartments, 13 are slated to be set aside for foster care graduates.
The Housing Authority bought the property in 2006 for $4.7 million from Haagen, a high-end soup-to-nuts printing company that started out 65 years ago in its founder's garage overlooking San Roque. Since then, Haagen survived a roller-coaster ride of multiple booms, busts, betrayals, buyouts, and bankruptcies. Today, it's operating as a division of Typecast Wood and Jones, located on West Canon Perdido Street.
The deal to build Artisan Court is estimated to cost $16 million including land costs. The City of Santa Barbara provided $5.2 million; most of the remainder was raised by selling low-income housing tax credits. Construction is scheduled to take one year. To make the deal happen, City Hall also granted the Housing Authority major zoning breaks. The land in question is zoned for no more than 23 units per acre; the Housing Authority got 55. Normal zoning would require 72 parking spaces; the Housing Authority is providing only 40.
The trade-off is affordability. Upon completion, rents will range from $408 to $800 a month. For foster care graduates, rents will be 30 percent of their income. If they make nothing, they will pay nothing. The rest of the units will be occupied by low-income workers — defined as people making 80 percent of the area median income. For a family of four, that translates to households earning $56,000 a year or less. Likewise, Artisan Court will provide housing for people emerging out of El Carrillo, a downtown housing complex targeting homeless people just getting off the streets.
The Housing Authority currently maintains an inventory of 3,165 housing units of various kinds throughout city limits. But because there's a waiting list of about 7,500 to 8,000, it usually takes anywhere from three to five years for qualifying applicants to secure housing. Special preference is given to veterans and seniors. In some instances, preference is also given to people who work downtown and don't drive a car. To some, that stipulation violates the laws of common sense as practiced in car-dependent Southern California. But Rob Fredericks of the Housing Authority noted that the
Casa de Las Fuentes housing project has less than 17 cars parked in a lot capable of accommodating 40.