DEVIL'S ADVOCATE: As the music world slowly starts to awaken from its post-holiday slumber, there are few shows to get more excited about than A.A. Bondy's. The once New York-, now Alabama-based singer/songwriter will be making his way to Muddy Waters Café (508 E. Haley St.) this Monday, January 18, in support of his second solo record, the hauntingly beautiful When the Devil's Loose.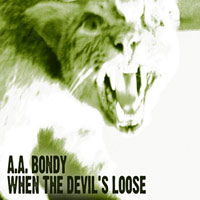 Like its predecessor, 2007's American Hearts, When the Devil is brimming with lush acoustic guitar work, twangy plucks, and Bondy's rich, emotive vocals. But where the album differs is in the details. In place of his once straightforward oratories, listeners get a more private Bondy this go-around. The lyrics and song structures are just as resonating, but the subject matter, as Bondy pointed out, is a little more mysterious.
"There's stuff on this record that there's no way anybody will know what it is or know what I'm talking about," he explained recently from his home in Alabama. "I was dealing with events that actually, if taken literally, would have made the album a lot darker, and I didn't want it to be that didactic. When I got out and started playing a lot of songs from the first record, I just felt fenced in by the content. I wanted the new stuff to be a bit more loose—stuff that I could find will have a longer shelf life because I can put different meaning into it."
And while the song-to-song details may remain under wraps, Bondy is more than willing to wax poetic about the themes embedded in When the Devil's Loose. "In some ways, it's kind of about being lost, I think, but also realizing that that's okay. I think everybody goes through that in some way."
For those who remember Bondy from his '90s stint in the post-grunge band Verbena (he went by "Scott" back then), be forewarned: The current work is a far cry from his hard-rockin' past. The group, which disbanded after their final release with Capitol Records in 2003, is something Bondy now views as mostly a learning experience, claiming that he was not proud of any of the work Verbena did after their first, independently released album.
Asking Bondy to compare the difference between the two projects, he explained, "I just feel better now. It just feels more true than that did, for whatever reason. I feel like anything I've gotten now is there because I worked for it, whereas back then, it was all about how the label could trick everybody into listening to our record. It was an all-or-nothing game with MTV and radio and all that stuff, and if you threw your hat in with that lot and you didn't get those things, you were fucked."
Today, Bondy seems content simply to write from his heart and see where it gets him, and thus far it's working out pretty well. His stop at Muddy Waters is just the start of a month-long cross-country tour, which he will embark on with a full backing band.
"I know some people say they like me better when I play solo, but I don't think they really do," he laughed.
As for Bondy's own personal advice on how to keep a crowd entertained, well, his guess is as good as ours. "It's the room, it's the people in the room, it's what you had for lunch, it's how the sun looks going down—it's just all these variables, and it's impossible to manage, and you don't know what's going to happen 'til you get up there. And sometimes it's great from the word 'go' to the end, and other times it might not turn on until halfway through the set. I have no idea when it comes or why it comes, but it usually does."
4•1•1
A.A. Bondy plays Muddy Waters Café (508 E. Haley St.) with opener Willy Mason on Monday, January 18, at 8 p.m. Call 966-9328 or visit clubmercy.com for details.