Dance
Winter Arts Preview: Dance
Winter Arts Preview
Winter 2010 is packed with dance events, from streamlined contemporary ballet to Broadway razzle dazzle to street-worthy hip-hop. The season kicks off with Santa Barbara Dance Theatre's evening-length show, The Golden Dawn, at UCSB's Hatlen Theatre, January 13-16. It's a busy weekend, with DANCEworks hosting New York choreographer Larry Keigwin at the Lobero Theatre on Saturday, January 16, at noon; Keigwin will also hold an open meeting with community members interested in performing with his company in April. That evening, modern dance company SonneBlauma Danscz Theatre holds an open studio showing at the Montecito School of Ballet, while over at the Granada, the Peking Acrobats will be soaring through the air. And the Arlington presents Rice and Weber's Broadway smash hit Jesus Christ Superstar on Wednesday, January 20.
The following week, Arts & Lectures welcomes two major companies to town: Brazil's Grupo de Rua will bring some high-impact street dance to UCSB's Campbell Hall on Tuesday, January 26, while Christopher Wheeldon's new company, Morphoses, promises to deliver an evening of world-class contemporary ballet on Friday, January 29, at the Granada.
As Valentine's Day approaches, Daughter of Zion Aerial Dance Company and Drama Dogs present Je T'aime 2, an aerial dance theater show at Theater DoZ February 4-13. The Granada brings vibrant African dance and drumming to town with Spirit of Uganda on Friday, February 5, and also hosts State Street Ballet alongside the S.B. Choral Society in the Beatles tribute show LoveLoveLove on Saturday, February 13, and Sunday, February 14.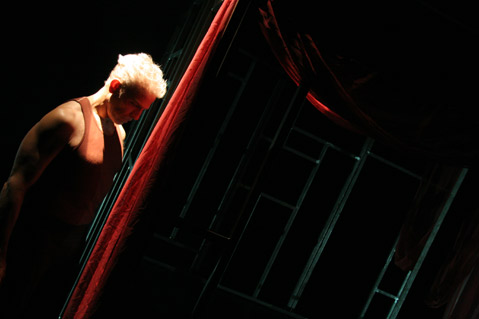 Back at Campbell Hall on Tuesday, February 16, London-based Akram Khan brings together dancers from his own company with performers from the National Ballet of China for bahok, a show that examines the issue of national identity through physical movement. The body is also the subject of the upcoming NECTAR, an ongoing performance art series at Yoga Soup, this time focusing on the topic of sexuality. Don't miss the intimate showing on Saturday, February 20.
One week later, make sure to catch an evening of Argentine tango music and dance out at UCSB's MultiCultural Center Theater on Saturday, February 27, at 8 p.m. Once your appetite for tango's been whetted, you'll be ready for BASSH, one of the city's favorite annual dance events, hosted by the Santa Barbara Dance Alliance at the Lobero on Friday, March 12, and Saturday, March 13, featuring ballroom, Argentine tango, swing, salsa, and hip-hop. The winter nights may be cool, but the dancing's sizzling hot.