Arts & Entertainment
Harry Connick Jr. Brings Big Band to the Arlington
The Crooner Plays with a Full Orchestra Tuesday Night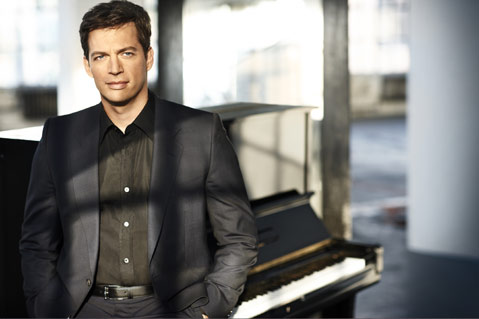 Three-time Grammy Award-winner and newly minted 2010 nominee Harry Connick Jr. will play Santa Barbara's Arlington Theatre this Tuesday night. In advance of his new tour in support of the recently released Your Songs, Connick took some time to chat with The Independent about New Orleans, life after Hurricane Katrina, and, of course, music.
Connick was born in New Orleans, a city that has long been a stew of cultural influences and musical expression, and was introduced to the piano by his parents at the age of three. The sounds of jazz in the Big Easy have always been known to have an emotionalism and edge in the notes themselves, and these characteristics and complexities were not lost on the young Connick. An intensely gifted pianist, his onstage persona first began to take shape when he was only five years old, and growing up he studied under jazz greats like James Booker and Ellis Marsalis. Connick first appeared on a jazz recording at the age of 10, moved to New York City when he was 18, and at 20 released his second—and breakthrough—album, 20, which introduced the world to Connick's now ubiquitous croon. Warm but forceful and resonant, it is this voice that is being showcased most prominently on Your Songs.
You started piano at such an early age. What was it about jazz that you were drawn to? Well, my mother came from a musical family, and I was introduced to music and jazz pretty young. But New Orleans jazz was and still is just accessible to people of all ages. Everywhere you went in the city, you could hear it.
Most people are petrified at the thought of reciting the alphabet when they're five, and you essentially started your performing career at that age. What was that first experience like for you? [Laughs.] I loved performing right away, and I loved being on stage. I knew that's what I wanted to do.
You released your second album at age 20, then got your first big break when Rob Reiner asked you to orchestrate the soundtrack for When Harry Met Sally. What was your experience with producing and leading the big band-dominated songs on that album? I was 21 at the time, and that was my first real experience with big band [music], but it was a genre that I was familiar with. For that album, initially, I started by singing two to three songs, and then before I knew it, I ended up with the whole CD. That's probably what launched my career, which I'm so grateful for.
Before we talk about your new album, I wanted to touch on your work with the relief efforts for Hurricane Katrina. In addition to providing an incredibly broad fundraising platform to the city, you were down there the day after the levee broke. What were your initial reactions once you got there? It was completely mind-boggling to see the horrible devastation. This usually larger-than-life city was at a complete standstill. There was this bleak sense of helplessness. I ended up going to Houston a couple weeks after the storm and was just struck by the major confusion and hopelessness that everyone seemed to carry around with them. I called my good friend Branford Marsalis, and we were both completely perplexed that there didn't seem to be a more obvious sense of urgency to getting these people back to some kind of a healthy situation.
What do you feel the overarching sentiment seems to be now in New Orleans? Hopeful. That city is just going to come back and revive itself. But the real thanks go to those people that have been working down there day in and day out.
So, after 20 albums, you're releasing Your Songs, a collection of pop classics. What was your inspiration for this album? Clive Davis, the legendary producer that I worked with on this album, wanted me to do something that would highlight my voice. But, the main criteria was that each song selected had to be a song everyone knew. Clive suggested "Close to You," I suggested "Mona Lisa," and it just went back and forth until we got our list, and we came up with everything from the Beatles to Nat King Cole to Billy Joel.
What were your challenges in immersing yourself in this project? I wanted to retain the meaning of each song. I mean, take the Beatles; how could I combine their classic sound and maintain my own sound? That's where the collaboration with Clive was so amazing.
Considering your acting background, I feel like tackling cover songs can be like redefining a character that one actor has already made famous. Absolutely, but say for Marlon Brando in Streetcar, he really defined the role of Stanley. But the writing of Tennessee Williams is so rich and strong it allows the artist a lot of room for interpretation. That's what I feel about the songs we selected for Your Songs. The originals are classics, but they are all written so well that it gave me the opportunity to really study the lyrics and put my own spin on them.
4•1•1
Nederlander presents An Evening with Harry Connick Jr. and Orchestra at the Arlington Theatre (1317 State St.) this Tuesday, January 26, at 8 p.m. For tickets and info, call 583-8700 or visit ticketmaster.com.