News
News-Press Owner Prevails
Court Rules Workers' Journalistic Integrity Threatens McCaw's Free Speech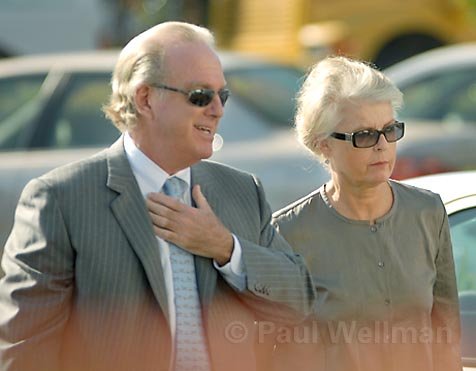 A panel of judges from the Ninth Circuit Court of Appeals rejected a petition for emergency relief filed on behalf of 10 Santa Barbara News-Press reporters fired for union organizing. The panel majority ruled that to order these workers re-instated would pose "a significant risk" to News-Press owner and publisher Wendy McCaw's First Amendment rights. As publisher, two of the panel's three judges ruled, McCaw wields ultimate authority over the newspaper's content. But interestingly, the union drive — for which the workers were fired in February 2007 — emerged out of a struggle by News-Press writers to protect themselves from McCaw's editorial intrusions over news content.
Workers elected the Teamsters to represent them and sought to negotiate ways to protect the paper's — and their own — "journalistic integrity" at the bargaining table. In addition, the panel majority concluded that if McCaw were forced to rehire the 10 fired employees, the paper's content would inevitably be affected. However, one dissenting judge countered that the workers were fired only after embracing the union cause — a federally protected activity. By allowing McCaw to use the First Amendment as a shield, the panel majority was effectively exempting her and the News-Press from obeying federal labor laws.
The case arose after the National Labor Relations Board (NLRB) sought emergency relief on behalf of the fired workers, ordering McCaw to hire them back. (They were fired for hanging a banner over a freeway overpass exhorting motorists to cancel their News-Press subscriptions as part of a union-organized effort to pressure McCaw to the bargaining table.) McCaw appealed and won in federal district court in Los Angeles. The NLRB then appealed to the Ninth Circuit Court. The NLRB could still request that the entire Ninth Circuit Court bench hear the case.
The ruling does not affect, however, the finding by NLRB Judge William Kocol — after a two week hearing — that the News-Press violated federal labor law by firing the workers in question. Kocol also ordered McCaw to rehire these workers with back pay. (Kocol did not, however, seek emergency relief on the fired workers' behalf.) McCaw has appealed that decision to the entire National Labor Relations Board. Given that there are only two members of that five-person body — and Congressional Republicans have thus far blocked President Barack Obama's appointees — it's uncertain when that case will be heard. Next week will mark the third anniversary of the mass firings that triggered this lawsuit.