Film & TV
Howl at Sundance
James Franco Stars as Allen Ginsberg in Howl
Sundance 2010 got off to a memorable and controversial start with Howl, a docudrama with animation about the life and times of a famous poem. Directors Epstein and Friedman come from documentary, and that's what they thought they were making when this project got its start at the Sundance lab six years ago. What they have ended up with is something more—an homage to a great work of literature that manages to telescope several layers of cultural history into a single and glorious blast of words and images.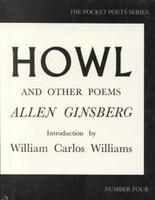 "Howl" the poem was born as a recitation at the Six Gallery in San Francisco's Marina in October of 1955. It went on to become the best-selling title on the list of Lawrence Ferlinghetti's City Lights press, and to establish the self-revelatory ethos of a generation of liberated souls and counter-cultural artists. Based in part on Ginsberg's experience with the state department of mental health in New York, "Howl" is dedicated to Carl Solomon, a fellow mental patient, and describes America in the 1950s as place bent on destroying its most sensitive, intelligent and creative citizens. It's central image of a many-windowed Moloch demanding human sacrifice came from a vision Ginsberg had of the hotels of San Francisco while tripping on peyote, and implies that the mainstream culture eats its young, a message that would prove prophetic to the next generation of Americans, the children of the 1960s who would canonize this, the greatest work of American protest literature, making "Howl" the counter-culture's own Declaration of Independence.
No story of counter-cultural publication would be complete without an obscenity trial, and San Francisco obliged with a spectacular one, complete with a happy ending that set the most influential precedent for First Amendment law regarding literature since the Ulysses decision. It is in no way an exaggeration to say that, because of Ferlinghetti, Ginsberg, and "Howl," America slipped the yoke of literary censorship for the next 50 years.
All this preliminary information about "Howl" is necessary to a discussion of the film because the directors have chosen to leave so much of it implied in their spare, unrelenting, and grandly emphatic recreation of the poem's elemental rhetorical force. Franco carries the film with his subtle, jazz-influenced evocation of Ginsberg, but perhaps the most moving speech comes out of Bob Balaban's mouth, in the role of Judge Clayton W. Horn, the man who found that the "Howl" was protected under the First Amendment. This is a great film for any number of reasons, and deserves to be seen by a wide audience. Congratulations to the filmmakers and to Sundance for their continuing commitment to challenging programming.