Film & TV
SBIFF's To the Maxxx
Surfing, Skiing, Climbing, and Skating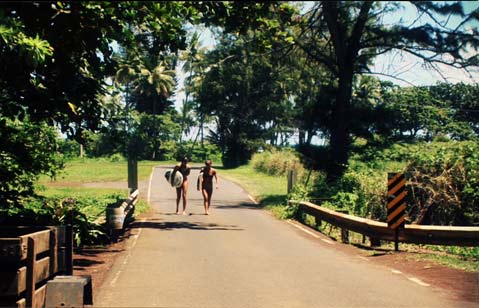 This year's To the Maxxx category—the annual film festival's home for big waves, big jumps, back flips, and awesome wipeouts by athletes of all sorts—is looking more grown up, reflective, and (dare I say) mellow than ever before. While the boom boom huck jam, death-defying, adrenalin-charged antics of years past is still very much intact with films like On the Pipe Five (motocross craziness by Santa Barbara's own Jay Schweitzer), Mission to Toyland (Erik Hatch's annual underground skateboard masterpiece), and Mount St. Elias (documenting recent attempts at the longest ski descent ever), it is more thoughtful documentary-styled affairs that make up the "must sees" of this year's To the Maxxx.
S.B. filmmaker and sidebar curator Russ Spencer has spent the past two years working on Hana Surf Girls, which gives a sun-soaked, behind-the-scenes look at a crew of waveriding young ladies from one of the most remote and sublime parts of Mau'i as they go through the turbulence of becoming adults (spoiler alert: This film includes footage of last year's infamous Floatopia debacle Isla Vista). Out of Place paints an entirely different—though equally thoughtful—picture of the unexpected (and often freezing) surfing life of a few guys from Ohio.
The crown jewel of the category is, however, the world premiere of Chris Malloy's newest movie, 180 South. About as pure an adventure documentary as you can imagine, the film recaps Yvon Chouinard and Doug Tompkins's epic 5,000-mile mountain climbing and surfing road trip to Chile's Patagonia playground in 1968, while simultaneously telling the tale of Jeff Johnson's re-imagined version of the adventure in recent times. The end result is a visually stunning film that not only makes you want to light out for the territory ahead, but, perhaps more importantly, tickles the intellect with some serious environmental/life philosophy.
Sleeper of the category: Last Paradise, a brilliantly interesting investigation of the history behind New Zealand's well-deserved reputation as the adventure sports capitol of the world.