Arts & Entertainment
The Chieftains Come Traditional
Celtic Folk Legends Play the Granada Theatre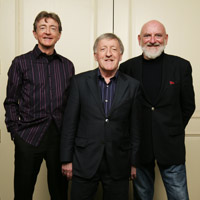 They may be best known for bringing traditional Irish music to an international audience, but during the past 40 years, The Chieftains have also experimented with several divergent genres, including country and rock 'n' roll. They've recorded with Ziggy Marley, Sting, and Carlos Núñez, always marrying their form with traditional Irish sounds. For their latest album, San Patricio, The Chieftains explore the music of Mexico—specifically the music of the San Patricios, the Irish brigade that fought against the U.S. during the Mexican-American War of 1846-1848.
"Theirs is an untold story," Chieftains leader Paddy Moloney explained via phone from Florida, "a part of history that a lot of people don't know about here in the U.S. Back in Ireland, they've heard of the San Patricios [Spanish for St. Patrick's Battalion] all right, because some folk artist did a couple of ballads about 10 years ago. But the story, for me, it started 25 years ago. Mr. [Ry] Cooder has been after me for many years to make a record about it, and finally I started it a year-and-a-half ago. It's been a tremendous musical journey."
The story of the San Patricios unfolds during the course of the 19-song album. And Cooder, who has collaborated on two previous Chieftains records (The Long Black Veil and Santiago), coproduced the record and contributed the original track "The Sands of Mexico." Other contributors who helped bring San Patricio to life are Linda Ronstadt and Liam Neeson, the latter of whose recitation of "March to Battle" is a poignant lament, with words written by Brendan Graham, set to music by Moloney. Clannad's Moya Brennan also appears on the album, lending her vocals to the haunting "Lullaby for the Dead." "Brendan [Graham] came to me late with that song. I rang up Moya, she came down, and she loved it so much that she's putting it on her new CD," Moloney said.
The Chieftains perform with special guest Ry Cooder this Monday, February 22, at the Granada Theatre (1214 State St.). For more information, call 899-2222 or visit granadasb.org. For the complete Q&A with Paddy Moloney, visit independent.com/paddymoloney.