News
Here Comes Baby
Tips for Helping Your Cat and Baby Get Along
Now that I'm entering my third trimester of pregnancy, I thought I should do a little research on ways to prepare my cats for a new bundle of joy who will shortly be entering our lives.
Before the Baby Is Born
Experts suggest preparing your cat ahead of time for what to expect when the baby arrives. Start by purchasing a life-like baby doll and carry it around the house with you from time to time. It's also a good idea to play a recording of a baby crying. Start playing the recording at a low volume for short periods of time, and then gradually increase the volume and the duration. Playing this over and over will help desensitize your cat to the noise, especially if your cat is used to a quiet house.
If you know in advance what products (such as lotions, powders, etc.) you will be using on your baby, purchase those items in advance and start using them on yourself. Your cat then will be familiar with that scent when you start using it on the baby.
Ask your friends or family members who have young children to stop by for brief visits a few times before the baby is born. Even though your child may not look, smell, or be of the same age as these children, your cat will at least have an idea of what a baby or child is before he enters your home permanently.
Before the baby is born, take your cat in for a visit to the veterinarian to make sure that he is parasite-free, so that nothing can be passed on to your baby.
Once the Baby Arrives
Immediately after the baby is born and before you and the baby come home, ask a friend or family member to bring a blanket home from the hospital that your baby has been wrapped in. Leave this blanket in a prominent place in your home, such as where your cat usually sleeps, in order to get your cat accustomed to the baby's scent.
Remember to greet your cat when you and the baby come home, so he doesn't feel ignored.
You can also use treats to make meeting a new family member a positive experience for your kitty. You want to give your cat a reason to like the baby. I've started this with my scared cat, who used to run from the door every time someone was there (even if it was my husband or me). I now keep a treat bag in a drawer right by the front door and I shake the bag and offer my cat a treat every time I enter. My cat now comes immediately when the front door opens instead of running away regardless of whether or not I give him a treat.
Let your cat sniff the baby, under supervision of course, and offer treats if your cat behaves normally. Alana Stevenson, a cat and dog behavior specialist, cautions against creating negative associations by yelling to get your cat out of the baby swing or shutting it out of the nursery altogether as this will alarm a territorial animal. Stevenson says, "The more it's off-limits, the more it's a big deal." She instead suggests you let your cat explore the baby equipment, toys, and nursery until the novelty wears off.
It is an old wives tale that a cat will steal a baby's breath, but it is possible that your cat could sleep too closely to your newborn and inadvertently block the baby's air passages. If you're worried that your cat will jump in the baby's crib, you can put a crib tent over it.
Since cats will sometimes shed from stress, be sure to groom your cat regularly. This also helps if your baby is allergic to the cat. Use a good metal brush or the FURminator (which can be purchased at pet supply stores) to help with excess shedding.
As hard as this may be, experts recommend keeping your cat on the same routine. Cats are creatures of habit and if they normally get fed at 6 a.m. and played with every night at 10 p.m., they will still want their food at 6 a.m. and their fishing pole toy at 10 p.m., regardless of whether or not a new baby has come into the home. This task may be difficult, but keeping your pet on its same schedule will help avoid potential behavior problems in the future.
If your cat seems to be having a hard time adjusting, there are artificial pheromone sprays and diffusers you can purchase. Many cat shelters even use pheromones to help cats adjust to the new environment. Continue using these products until your cat has adjusted. Feliway spray and room diffuser can be purchased on Amazon.com for around $20.
From Baby to Toddler
As your baby begins to crawl and walk, make sure your cat has a baby-free, cat-safe zone such as a tall tree that the baby can't reach.
Teach your child to respect your cat. Cats should be left alone when they are eating, sleeping, or using the litter box.
Take your baby's hand and pet your cat's fur softly saying "gentle." Teach your baby that this is the way a cat should be petted and should never be grabbed, especially by the tail.
It's also a good idea to install baby gates that are low enough to block your child but high enough for your cats to pass underneath.
Most of all, try to make time for your cat. Your life will change dramatically when the new baby comes home, and this will affect your cat as well. For example, when you're holding your baby with one arm, play with your cat with the other arm with a pole toy. This is one of the best pole toys and it can be purchased for under $6: http://www.amazon.com/Go-Cat-Catcher/dp/B000LPOUNW/ref=sr_1_8?ie=UTF8&s=home-garden&qid=1265765199&sr=8-8. You can also invite your cat to join you when you take your naps.
Overall, two of the most adorable creatures—cats and babies—can learn to be best friends. All it takes is a little preparation, patience, and practice to keep your family happy and at peace. At least theoretically. I'll let you know how it goes in three months.
Announcements
The Montecito Pet Shop Fundraiser
Saturday, February 20, 11 a.m.-6 p.m., and Sunday, February 21, 11 a.m.-3 p.m.
There will be a silent auction, raffle, speakers, music by Bruce Wood on guitar, hors d'oeuvres, cocktails, and refreshments. Plus, pets for adoption. 2020 Cliff Dr. For more information, call 965-6780 or visit http://www.montecitopetshop.com/Site/Events.html.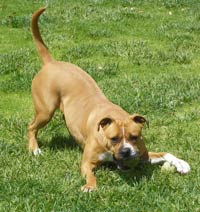 Adoptable Pet of the Week
Mama is a two-year-old female, spayed boxer mix. She is looking for a home with an energetic owner. She may get along with another dog, but no cats, please. As you see from her photo, Mama is beautiful, young, and strong. She also really loves to play! According to her prior guardian and shelter volunteers, Mama is loving and sweet toward everyone. If you are looking for exercise and affection, please consider a visit with this attractive boxer mix. For more information, visit the Santa Barbara Humane Society at 5399 Overpass Road, or call 964-4777. Shelter hours are Monday-Saturday, 10 a.m.-4:30 p.m. You can also visit www.sbhumanesociety.org for more information.