News
"Monster" Put Behind Bars
Edward Galvez Receives Prison Term of 19 Years to Life for Beating of Off-Duty Police Sergeant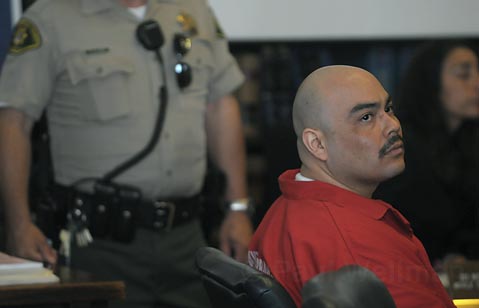 A Carpinteria gang member known as "Monster" was the last of six defendants to be sentenced in relation to a 2007 fight and subsequent assault on a witness to the fight — who happened to be an off-duty Santa Barbara police sergeant. "Monster" received a punishment of 19 years to life in prison for his involvement.
The prosecutor in the case characterized 29-year-old Edward Galvez as the most culpable in the attacks which took place on June 6, 2007. Galvez, the only one of the six to see his case go to trial, was convicted of robbery, witness intimidation, and assault likely to produce great bodily injury. All charges included gang enhancements. He was also found guilty of being an active participant in a street gang by a Santa Barbara jury in October 2009.
The charges stem from a verbal altercation at Carpinteria and Eugenia Avenues that escalated into a violent fight, with six subjects — all members of the Carpas gang — attacking a group of four. According to authorities, no weapons were seen, and injuries were minor. However, a witness to the altercation, Sgt. Charles McChesney of the Santa Barbara Police Department, called 911 to report the incident and was quickly confronted by a number of the suspects, including Galvez. They proceeded to attack McChesney and tried to take his cell phone. He sustained internal bleeding, a broken rib, and had to have reconstructive surgery on his knee because of the attack. The group only stopped the beating when authorities arrived on the scene. Galvez, though quickly identified as being part of the attack, was not captured until months later.
Judge Frank Ochoa, in sentencing Galvez, called the attack "one of the most callous and vicious assaults" he'd seen in his years on the bench. "He's clearly a danger to society," he said.
The others in the attack also received a good chunk of time behind bars after pleading before trial. Juan Alcala, 23, received eight years in state prison after pleading guilty to dissuading a witness and assault likely to produce great bodily injury, along with gang enhancements. Anthony Garibay, 29, who had just been released from prison, pleaded guilty to assault with force likely to produce great bodily injury with a gang enhancement and received 10 years in state prison. Brothers David and Daniel Jimenez, along with 22-year-old Lawrence Brennen, all pleaded guilty to four counts of battery for the benefit of a street gang and were sentenced to probation, though Daniel Jimenez has since violated probation and been sent to prison on a gun charge, according to Almgren. All defendants were from Carpinteria.
McChesney lauded the Sheriff's Department and DA's Office for sticking with the case, even after Galvez escaped for months. "They took some bad dudes off the streets," said McChesney, who still walks with a limp from the knee injury, but has otherwise recovered from the attack.