Positively State Street
Loomis & the Lust Score $25,000 Prize
Finn Riggins, Agent Ribbons, Mike Doughty Play S.B.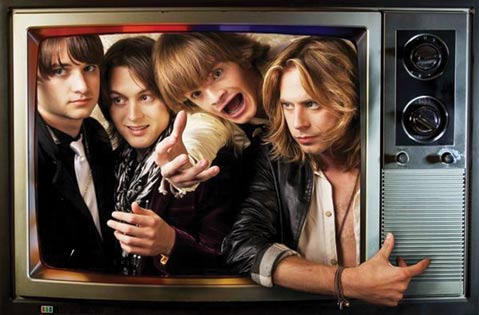 ON THE VERGE: It's news to no one that Santa Barbara's Loomis & the Lust are a talented lot. The buoyant sounds coming out of this pop-rock four-piece have been drawing crowds—and inciting raucous dance parties—since they formed back in 2008. In between gigging around town, the Loomis boys have been hard at work both in the booth and in front of the camera. Their music video for the über-catchy "Bright Red Chords" has already been thrown into rotation on MTVu, Fuse, and a whole slew of other cable outlets, and they're currently working on a new EP and follow-up video.
Still, most recently, it's Loomis's live performance that's getting all the attention. Just two weeks ago, the quartet beat out hundreds to score the title of New Music Seminar's Artist on the Verge award. A big name in its own right, New Music Seminar (NMS) is considered one of the premiere, nationally recognized events for industry professionals to converge and talk "what's next" in music, marketing, and touring. And after performing (twice!) in front of a panel of music industry big wigs, Loomis & the Lust finally scored the top prize (not to mention $25,000 in consultation and gear).
Needless to say, a warm and well-deserved congrats are in order for Will, Casey, Scott, and Anthony. The band currently is prepping for a trip to Austin's famous South by Southwest festival, but will no doubt be home and ready to rock by the end of April. For tunes, videos, and info, visit loomisandthelust.com.
LOVE ME TENDER: If you haven't yet heard Finn Riggins, this weekend's your chance to get in on one of the best-kept secrets in indie rock. The Idaho-bred three-piece will be swinging through town with not one, but two shows in Santa Barbara Country starting this Saturday, March 6, at 8 p.m., with a stop at Muddy Waters Café (508 E. Haley St.). After that, it's up the 101 to the Biko Co-Op Garage (6612 Sueno Rd., Isla Vista) with experimentalist (and fellow Tender Loving Empire labelmate) Boy Eats Drum Machine on Sunday, March 7, at 7:30 p.m. A mix between Wolf Parade, Arcade Fire, and The B-52s, Finn Riggins have created a hard to come by combination of cacophonous instrumental mêlée, guttural, harmonized folk, and that special energy that just makes you want to get up and dance. For info on the Muddy Waters show, which also features S.B. quartet Quiet Giants, call 966-9328 or visit myspace.com/muddycafesb. And if you want to get in on the Isla Vista action, visit sbdiy.org.
LET'S DO THE TIME WARP: Also this week at the Mud, Agent Ribbons bring their old-timey awesomeness back to Santa Barbara with Raven 5 and Phantom Pomps. The Austin-based, all-female three-piece is about as vintage sounding as you can get, with warm and warbly vocal deliveries, jazz-influenced song structures, and a whole lotta violin, cello, and dusty percussion. (Think Ella Fitzgerald meets the White Stripes.) Agent Ribbons plays Muddy Waters Café this Monday, March 8, at 8 p.m. Visit myspace.com/muddycafesb.
HEART AND SOUL: And if you're still looking for something to whet your musical appetite this week, don't forget that Friday marks the long-awaited reschedule date for Soul Coughing frontman Mike Doughty. After last year's Jesusita Fire put the kibosh on Doughty's SOhO solo gig, the singer/songwriter has wrapped up a tour, started another, and released his latest recorded offering, Sad Man Happy Man, which many note is Doughty's most Soul Coughing-like solo work to date. As expected, the singer's speak-sing is in full force here, and his lyrics are as clever and double-edged as ever. You can catch Doughty live this Friday, March 5, at 8 p.m., at SOhO (1221 State St.). Call 962-7776 or visit clubmercy.com for ticket info.