Visual Arts
Answers to Questions: John Wood and Paul Harrison
Video Art Installation at UAM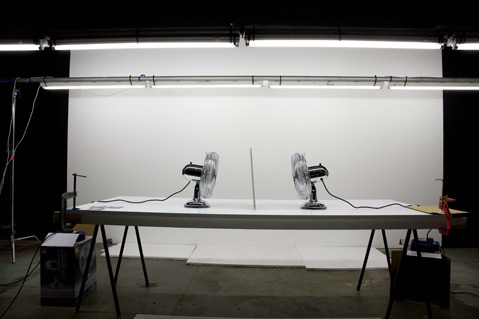 You'll want to set aside a full hour to immerse yourself in this show, comprised of posters and low-tech video installations that range in length from three to 50 minutes. It takes a little while to settle into John Wood and Paul Harrison's slow-paced films, which feature everyday objects and occasionally the artists themselves. Once you do, you find yourself in a mesmerizing minimalist world, as if you've stepped inside the box where conceptual art lives.
In "Fan/paper/fan," two fans stand on a tabletop facing each another, blades whirring. A man places a sheet of paper on end between them, so that it stands wavering there, pushed in two directions continuously. At the end of three minutes and 16 seconds, the fans switch off simultaneously, and the paper falls. "Photocopier" features the tray of a copy machine where the image being copied shifts slightly each time, a little sailboat seeming to travel from right to left until all that's left is a blank line.
It doesn't get much less dramatic than this, and yet in the quiet space of such simple, repeated action, a whole world of ideas opens up. Wood and Harrison cite the playwright Samuel Beckett as a source of inspiration, and there's undoubtedly an absurdist element to these studies. Inanimate objects like light bulbs, Styrofoam cups, and paperclips take on existential status in "Notebook," a nearly hour-long film that takes place on four screens. In each case, a fixed camera watches as apparently meaningless actions unfold: An empty plastic cup drifts across a tabletop on its side, a match burns the pages of a book, someone pours milk onto a rubber door mat so that the textured black rectangle disappears beneath a creeping layer of white. There may be, as one of the posters from their Some words, some more words series paradoxically suggests, "no beginning, no middle, no end." Yet the longer you watch, the more these events seem inherently melancholy, profound, or even funny.
The most prominent noise in the gallery is the sound of a vacuum cleaner emanating from the film "3 legged." Wood and Harrison stand side by side in a narrow space with their legs tied together. Below the camera lens, a nozzle travels side to side, spitting out tennis balls. The men hobble back and forth to avoid being hit, eventually learning to duck beneath the missiles. As in the other films, the action here appears senseless, but a close study of their faces reveals momentary tics of self-awareness and irony. Make no mistake: Every incident in these films is carefully choreographed, down to the hole punch that leaves behind nothing but two tiny circles of paper.