Living
Nicholas and Richard Den
Irish Brothers Find Fame and Fortune Ranching in Alta California
The brothers Den, Nicholas and Richard, journeyed from their Irish homeland to the New World under a cloud of financial misfortune. An unspecified "financial affair" apparently devastated the family, forcing the brothers to seek their fortunes overseas. They would go on to become two of the largest and most important landowners of the South Coast.
Nicholas Den was born in 1812, his brother, Richard, in 1821, into a family of Norman origin that had settled in Ireland in the 12th century. Both brothers supposedly studied medicine at the University of Dublin, although the records are unclear.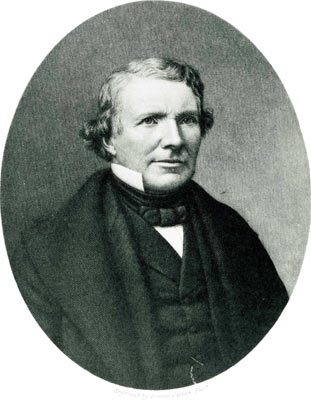 The family's financial misfortunes pushed Nicholas to cross the Atlantic and take a job with a cousin in Nova Scotia who was engaged in the mercantile trade. He was disappointed and chagrined to discover that his new "business career" primarily consisted of acting as his cousin's valet. The final straw came when he was asked to shine his cousin's shoes. After beating his cousin over the head with the footwear in question, he stalked out, eventually took passage to Boston, and then signed aboard a ship headed for California.
Den arrived in Santa Barbara in December 1836. Here he was befriended by Daniel Hill, who, when he settled here in 1823, had become one of the first Americans to call the South Coast home. Hill became a Mexican citizen, converted to Catholicism, married into the prestigious Ortega family, and became a successful rancher.
Hill introduced Den to one of his daughters, Rosa. Smitten, Nicholas determined to make Santa Barbara his home. He also applied for Mexican citizenship to facilitate the process of successfully applying for a land grant from the Mexican government.
Younger brother Richard followed Nicholas to Santa Barbara by a rather circuitous route. Despite the lack of a medical degree, he signed on as a ship's surgeon and sailed off to Australia. He then landed in Mazatlán, before arriving in Santa Barbara in the fall of 1843.
There he met Nicholas, who had married his beloved Rosa earlier that year. The elder Den was also now the proud owner of the Rancho Los Dos Pueblos, a land grant of more than 15,000 acres that stretched along the coast from present-day Fairview Avenue westward almost to El Capitán. He had begun a family that would eventually include 11 children and had recently built a fine adobe home, which was a landmark of the Goleta Valley until it was torn down in the early 1930s.
Richard settled in Los Angeles, and then headed for Monterey, the capital of Alta California, to apply for a medical license. While there, he was pressed into service to combat an outbreak of smallpox and then returned to Los Angeles in the summer of 1844. His involvement with Santa Barbara was about to begin in earnest.
The Mexican government was in the process of secularizing and selling off the California missions. The president of Mission Santa Barbara, Father Narciso Durán, struck a deal in November 1845 with Nicholas Den and his father-in-law, Daniel Hill, to lease the mission for nine years at $1,200 annually in an attempt to stave off an outright sale.
In June 1846, Nicholas and Richard bought the former mission rancho, San Marcos, and two days later, Pío Pico, the last Mexican governor of California, sold Mission Santa Barbara to Richard Den, the latter to take possession after the Den/Hill lease had expired.
Questions arose over the legality of the sale, and in 1859, a U.S. court invalidated it, pointing out the lack of documentation, including any evidence that money ever actually changed hands. There was also a question whether Pico was within his rights to make the sale in the first place. Den never pushed the matter.
The brothers continued to prosper. Nicholas became involved in Santa Barbara civic affairs. Richard took primary responsibility for the operation of Rancho San Marcos. Nicholas died in 1862. Two years later, Richard divested himself of his portion of San Marcos and returned to Los Angeles to practice medicine until his death in 1895. The two Irish lads had ended up doing quite well for themselves in Alta California.