Columns
Making Whales Count
Watching the Watchers at Coal Oil Point
If you take a walk along the cliffs near Devereux, and reach Coal Oil Point near Sands Beach, you might notice some people peering through binoculars as they scan the ocean. At first you might wonder what they are looking for, and gaze out to sea with them. However, if you read the white board hanging on a fence at the point that shows "The Count" you'll figure out what this is all about. These volunteers are out for the annual count of gray whales.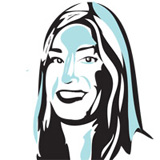 From February till mid-May, volunteers lay out a tablecloth, get out their camp chairs, and raise their binoculars to tally the number of whales that pass by on their way north. As each whale is spotted, counters add their sighting to the white board hanging on the fence overlooking the point. The whales are coming from Baja, near the Sea of Cortez, and can travel as far as the Artic Sea. According to Michael Smith, project coordinator for Gray Whales Count, this is an "extremely long migration," taking about two months. Smith said the whales only snack along the way. They don't really feed until they get to their destination.
This is the sixth year volunteers have been out at the point counting the whales. The first count occurred in 2005. Gray Whales Count is an independently organized nonprofit that collaborates with the American Cetacean Society- Channel Islands, UCSB's Coal Oil Point Natural Reserve, and Scripps Whale Acoustic Lab, among other organizations. At this time, Smith said, there are about 84 volunteers who come out to take weekly shifts. They may count for two hours, or more. Many of these volunteers are students, he said. Gray Whales Count works with UCSB organizations including The Coastal Fund UCSB which supplies interns to do the whale count. Smith called this a "cool deal."
While the organization's name may imply that the counters only focus on gray whales, this is not the case. Smith said volunteers take data on other marine mammals, including humpback whales and otters. (Sea lions, however, aren't counted.) The data is then distributed to various organizations, including the National Oceanic and Atmospheric Administration (NOAA) and even to school children. Smith said that "school children use our data immediately."
The count only represents raw data, but there are many factors which can influence the counts, including wind, which reduces visibility. On a clear day you can see for four miles, he said. However, on windy or rainy days it may be difficult to distinguish between a ripple in the ocean and a whale. "If you can't find the whale, it doesn't matter how well you know gray whales," he said. On these types of days counters may not even set up shop, knowing they won't be able to count accurately.
The counting station at the point is just one of several. Smith said there is a counting station in Big Sur that monitors southbound migrations, one in Palos Verdes that monitors northbound and southbound migrations, and one in Piedras Blancas to count calves. "From our station we are only taking a localized picture," he said.
When the raw data compiled by counters is passed on to organizations such as NOAA, it can be analyzed. "They make sense of it all to form a picture," Smith explained. Counters might notice there are fewer calves, but they don't try to come up with a theory for why this is happening. "Other people can look to find what the problem might be," he said.
Volunteers are trained to recognize gray whales but it usually takes a long time to become proficient. "We take people with absolutely no experience," Smith said. New volunteers get a one-day training on such things as how to use the binoculars. Then they go out and start counting. But he said that it usually takes volunteers an entire counting season, working about four hours a week, to get really good at it. "Experience is what it's all about. It's being out there," he said. Volunteers have to learn to distinguish the differences between a gray and humpback whale, two species that Smith said can look very similar and move in the same way. The humpback whale has a dorsal fin, the gray whale does not, and volunteers would have to wait until the whale dives to make the distinction that way. Another way he said that volunteers could tell the difference was by looking at the coloring of the whale. Gray whales have a mottled pattern, while humpbacks are black.
Some days are better than others for spotting gray whales. He said that March 22 is generally a big day for whale sightings. In 2008, volunteers spotted 42 whales on this day, he said. This year's whale count is updated regularly on the Gray Whales Count website. As of March 11, there had been a total of 148 gray whales spotted for the 2010 season.
Next time you saunter out near the point you might want to take a look out to sea, and maybe, just maybe, you'll be lucky enough to see a whale. You might also want to say hi to the volunteers who spend their time staring out to sea with their binoculars, trying to make sure that they get the count right, and doing their part to protect the whales.