Dance
BASSH at the Lobero, Friday, March 12
Dance Showcase Highlights Varied Talent in Santa Barbara
In his chartreuse, double-breasted pinstripe suit, Derrick Curtis embodied the spirit of Santa Barbara's dance community: in your face, whimsical, and a whole lot of fun. The vision behind the Santa Barbara Dance Alliance's annual BASSH showcase and one of its emcees this year, Curtis set the tone for an evening of high-energy dance from across the genres. This was the most ambitious BASSH program in recent memory, with 20 separate dances including an opening Michael Jackson tribute number. For the first time this year, aerial dance was represented, while the standard styles of ballroom, tango, swing, salsa, and hip-hop also got plenty of play.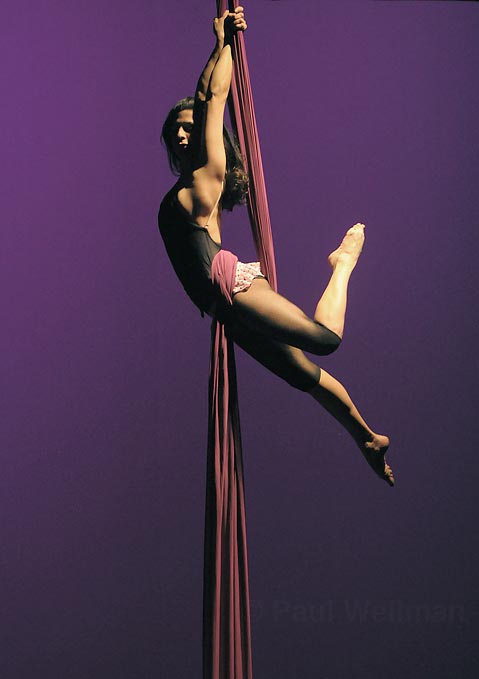 The many talents on display at the Lobero Friday night can't be captured in a short review, so a sample will have to suffice. Hector Sanchez and Lauren Breese performed an airy, passionate Argentine tango, their feet skimming the stage, their hair loose and wild. Derrick Curtis's effortless grace and Teresa Johnson's girlish energy came together in a classic Lindy Hop number, and young dancers Jose Oswaldo Balcaceres and Hien Jones partnered in a snappy, snazzy salsa. Arthur Murray Dance Studio was represented with a theatrical foxtrot set to Singing in the Rain; Javier Ochoa and Daisy Ramirez carried their requisite umbrellas with weightless ease. Rich Hoag and Glory Lamb brought sweet flirtation and a sense of humor to the Viennese waltz.
When it came to hip-hop, there was everything from Jade Baxter and Selena Lorigo's gutsy, girl power duet to Fusion Dance Company's ambitious and successful group number inspired by crash test dummies. In the midst of angular popping and hard locking, "dummy" Tim Milgram and "inspector" Cynthia Norton shared an intimate, lyrical duet; it all went out with a predictable bang.
Then there was the thrill of Aerial Coquettes, in which Ninette Paloma and Sophia Phillips demonstrated their mastery of aerial acrobatics: descending and ascending strips of silk fabric, swinging, tumbling, climbing, stretching, and keeping the audience thoroughly enthralled.
At intermission, Santa Barbara Mayor Helene Schneider and City Councilmember Das Williams took the stage to honor Julie McLeod, former executive director of SBDA and a guiding light for dance in the community. The Dance Alliance, McLeod declared, is all about inspiring the next generation, many of whom will take their places in future BASSH casts. From the youngest performers of Santa Barbara Dance Arts to the most experienced dancers on the stage, BASSH 2010 was an intergenerational community affair, reminding everyone in attendance that dance is part of our birthright—an expression of our humanity and our hope, exhilarating for those who choose to partake in it, and a joy to behold for those lucky enough to watch.